All Info on Online Gambling Iowa: Regulations and Websites
Iowa is a great destination for international gamblers. It's home to 19 state-regulated and 4 tribal casinos, as well as an attractive racecourse. But is online gambling legal in Iowa? You can safely engage in sports betting, but online casinos are still off limits. You can check out our list of online casinos USA that are legal to access from other locations.
While waiting for more liberating online gambling laws Iowa, you can access sweepstakes casinos. That concept bypasses the legal limitations, as it doesn't require you to make a deposit.
Let's discuss the online gambling situation in Iowa in detail, so you'll know what your options are!
Best Iowa Online Casinos
Top 1


Chumba Casino
Bonus
$30 Gold Coins for $10
Top 2


Funzpoints
Bonus
Up to $20 Free With Your First Deposit
Top 3


Luckyland
Bonus
$10 Gold Coins for $4.99
What Are the Online Gambling Laws in Iowa?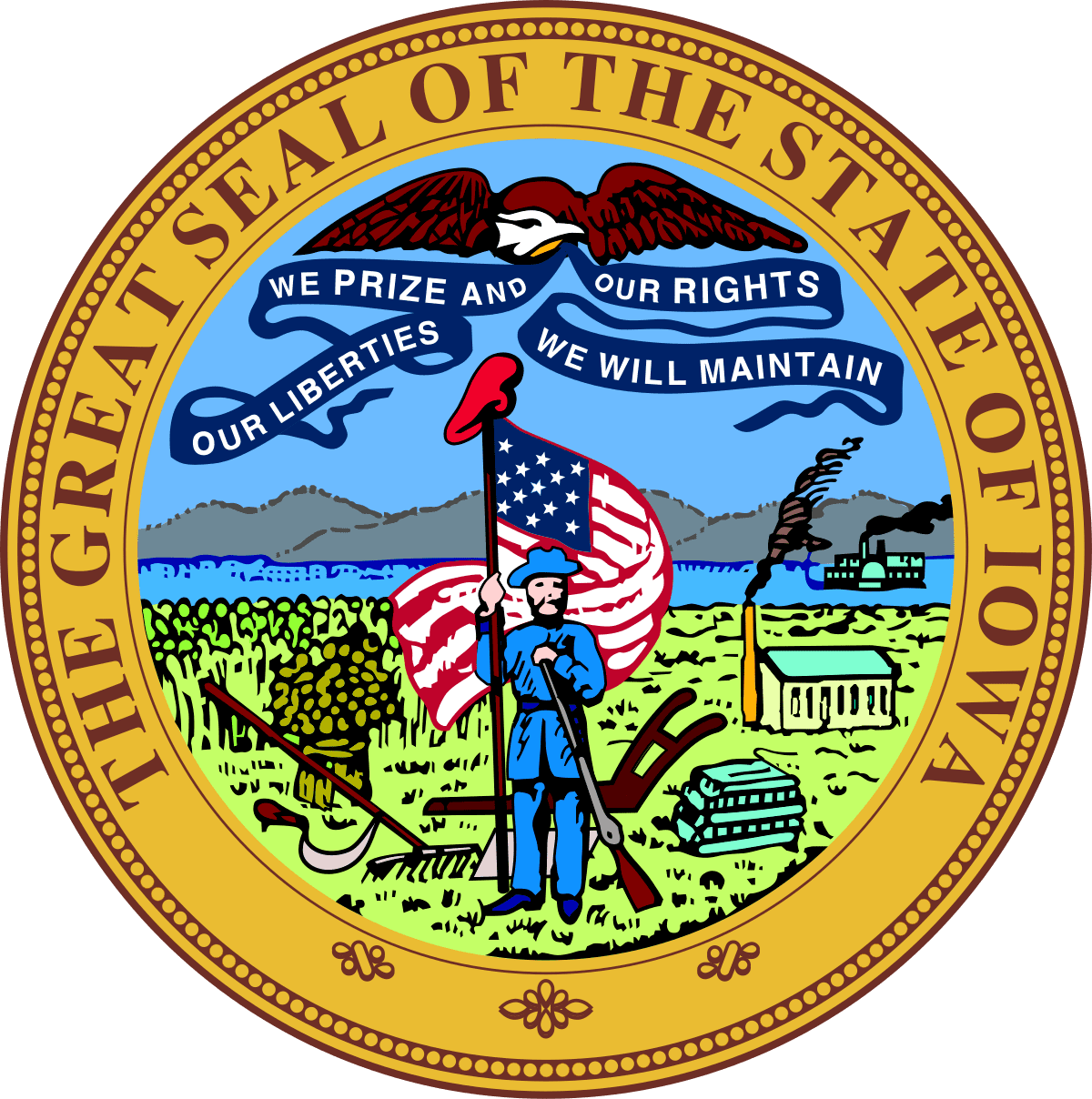 At the moment, there's no specific Iowa law online gambling regarding casino gaming. Slots, bingo, poker, and table games are allowed in land-based form. This industry is regulated by the Iowa Racing & Gaming Commission (IRGC).
Sports betting, horse race betting and fantasy sports betting are legal by the online gambling Iowa laws. Some of the most popular online sportsbooks (including Caesars, Draft Kings, and BETMGM) are available in the state.
The Iowa online gambling law allows social/skill arrangements. This means that you can engage in social gaming without a prize in money or money's worth. That makes sweepstakes casino sites legit. This part of the gambling industry is regulated by the Iowa Department of Inspections & Appeals.
You must be at least 21 years old to engage in any type of gambling (including sports betting) in Iowa.
These regulations apply to any gambler on the territory of Iowa.
Activities of Legal Online Gambling Iowa

Although Iowa online gambling laws prohibit virtual casino games, there are a few gambling activities that are legal in the state. Here's where you can try your luck:
Iowa sports gambling online
Since May 2019, online sports betting has been legalized in the state. You can choose from over a dozen legitimate online sportsbooks. They have amazing signup offers, a huge selection of sports to bet on, and highly competitive odds. Caesars, PointsBet, BetMGM, DraftKings, and FanDuel are some of the most popular options.
Iowa has one horse racing venue: Prairie Meadows. In addition to live race betting, the venue also enables you to view tracks and place bets around from any point in the country in real time.
Iowa's Lottery is state-regulated, and it's a member of the Multi-State Lottery Association. Although the tickets are sold strictly at retail locations, you can still use an Android and an iOS app to track the results.
Gamblers still don't have any poker and online blackjack gambling legal Iowa opportunities. Unfortunately, the state is far from legalizing the online casino industry. That's why players rely on social (sweepstakes) casinos. They give away prizes for contests, and allow players to enter through sweeps coins (a virtual currency).
You can get these sweeps coins by requesting them via mail or winning them in social media contests. You can also buy gold coins and use them to play only for fun, but you'll also get sweeps coins as a reward for your purchase.
Whenever you play a casino game on the best online gambling Iowa sites, you'll be entering a mini contest. Although the concept of awarding prizes is a bit different, the games themselves aren't any different from the usual table games and slots you can play in online casinos.
Top Iowa Online Gambling Websites and Games

We offer individual reviews on the best online casinos Iowa. You can choose from some of the most reputable sweepstakes casinos that are reliable, safe, and equally as fun as traditional casino sites.
These are the games you can play on legit Iowa online gambling sites:
The online slots industry is booming. A variety of providers deliver slots with an endless selection of themes. The prizes are generous! You can choose a slot based on a number of reels and paylines, but you can also go by your favorite theme.
Online roulette, blackjack, poker, baccarat, and other table games are available on gambling sites. Although live dealer games are rarely available on sweepstakes sites, you can still play software-based table games.
Different poker variations, such as Bonus Poker, Jacks or Better, and Deuces Wild are available in this format.
Opportunities for Online Sports Gambling Iowa

If you're looking for gambling legal Iowa options, you might want to consider sports betting. Most online sportsbooks offer great signup bonuses and loyalty promos. That might be the factor that helps you make a decision.
For example, DrafKings offers a $50 free bet on your first deposit, plus a 20% match bonus up to $1,000. Caesars offers a 100% match up to $1,500.
Before claiming any bonus at gambling online in the US, you must be aware of its terms and conditions. Online casinos are not the only ones to impose playthrough requirements. Sportsbooks imply similar terms on their bonus offers.
When you choose an Iowa gambling online site with fair bonus terms, you can bet on the following popular leagues:
Iowa is one of the few states to enable college football and basketball betting. You can also bet on tennis, soccer, table tennis, darts, snooker, and many other less popular sports on an international level.
Most sportsbooks offer an app for online gambling in Iowa, so you can use your smartphone to place bets while watching the games.
Helpful Resources for Responsible Online Gambling in Iowa

When you want to place a few bets and play casino games online, you're mostly focused on one question: is online sports gambling legal in Iowa? Yes; there are legal options. You can have a lot of fun playing casino games and betting on sports online. But the issue is: too much fun can lead to problem gambling.
These tips will help you stay safe:
Check the online gambling rules in Iowa before you choose a website, make a deposit, and start playing. Our website has tons of resources and recommendations that can get you informed.
Keep in mind that the legal online gambling age Iowa is 21!
Choose a reputable online gambling site that sources games from tested providers.
Be mindful of your behavior! Set a weekly limit on the amount you'll spend gambling online. Do not go over that limit, no matter the circumstances!
If you notice any problematic gambling behavior, you can find help in a self-exclusion program through the Iowa Gaming Association.
FAQ
👮 Is online gambling illegal in Iowa?

Online sports betting is legal, and you can access several platforms that enable it. Iowa hasn't legalized online casinos, but you can access sweepstakes sites that give you a similar experience.
❓ What's the legal Iowa online gambling age?

You have to be at least 21 years old to gamble in Iowa.
🤔 What casinos are eligible for an Iowa gambling license online?

At the moment, this state hasn't passed any legislation regarding online gambling. When that happens, some of the most reputable gambling brands from the U.S. scene will undoubtedly enter that market.
✔️ Do I have to live in Iowa to access online gambling when it becomes available?

You will have to be in the state to access the websites. You won't need permanent residence; at least that's how online gambling activities are regulated in the states where they are legal.
🔎 Why do some sites offer Iowa online casino gambling?

Social sweepstakes sites work on a different concept. They don't require a deposit and they allow you to play for free. The credits you purchase are for fun only, but you'll also get sweeps coins as a reward. They can be converted to prizes or cash.
🏆 What forms of gambling does the Iowa online gambling bill allow?

The state allows online sports betting and horse race betting. Sweepstakes casinos are not banned, and they offer a similar playing experience to traditional online casinos.