88 Fortunes Slot Review: Learn How to Play the Game
Online casino info
Last updated
Apr. 25, 2023
About game
Features
FreeSpins, Wild, Multiplayer Games
Screenshots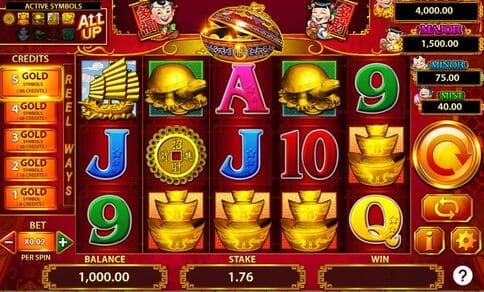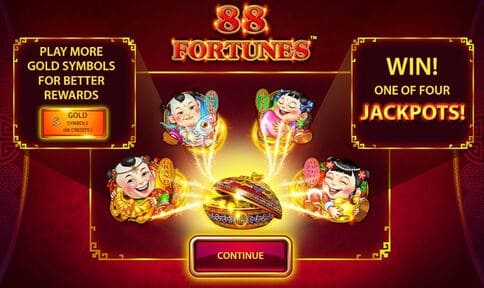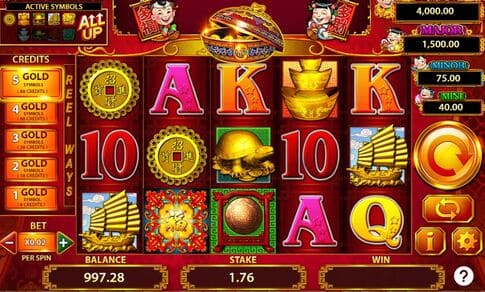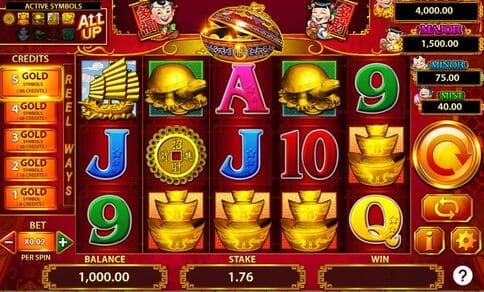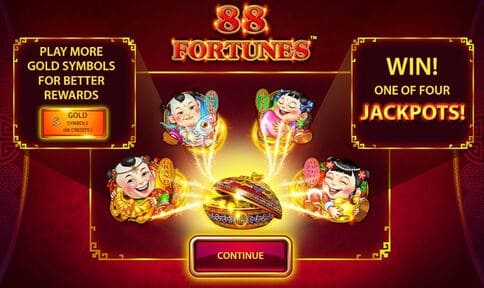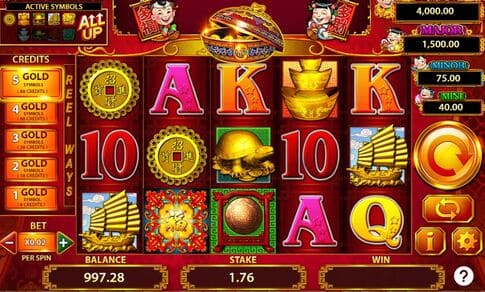 Online slots are constantly getting richer, more complex, and more exciting to play. Currently, the 88 Fortunes casino game is one of the most popular options for players around the world.
SG Interactive released the game in 2016. As it's one of the most popular game providers, the game got instantly featured in some of the most popular online casinos in the US. Gamblers like it because it's full of action. The 88 Fortunes Megaways technology gives 117,689 ways to win in every single spin.
Let's talk about 88 Fortunes slots in detail. We'll give you all the info you need, so you can compare it with other games and decide if it's worth a wager.
Important Facts about the 88 Fortunes Slot Machine
Although the game's features are complex, it's still an easy slot to play. Let's go through the basic facts about the slot!
Provider
SG Interactive
Number of reels
5
Number of paylines
243
88 Fortunes slot machine max bet and min bet
$0.08 – $88
Bonus round
Yes
Free spins
Yes
Mobile compatibility
Yes!
Mobile browser version + 88 Fortunes app available
88 Fortunes jackpot
Yes: Mini, Minor, Major, Grand
RTP
96%
Maximum payout
$200,000
Volatility
High
Main Features of the Fortunes 88 Slot Machine
The slot 88 Fortunes has some unique features that make it so popular among players. Although the gameplay doesn't differ from most other 5-reel slots, its design, theme, and features are recognizable.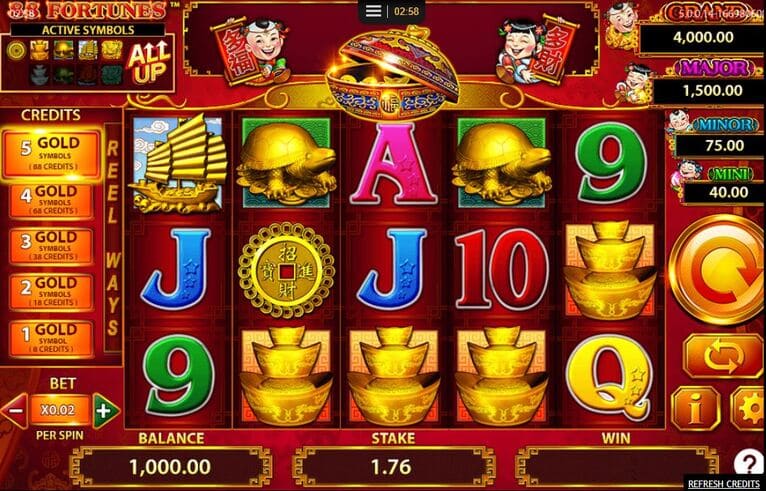 Theme and Storyline of the Slot Machine 88 Fortunes
The storyline takes you through the wonders of East Asia. The number 8 represents good fortune, and so do the symbols of gold coin bowls, gongs, and turtles. A wise old master guides you through the game's quest, accompanied by a golden dragon.
We loved the special effects, such as the cutscenes that take you to the next stages, and the birds carrying prizes. When you hit a winning combo, fireworks will announce it.
88 Fortunes Slots Casino Games Appearance
SG Interactive is known for launching slots that are not only fun, but appealing to the senses as well. This slot features state-of-the-art graphics. They are equally as impressive on the mobile version as they are on desktop.
The action-packed soundtrack and sound effects contribute to an exciting user experience.
88 Fortunes slot RTP, Volatility, and Bet Sizes
This slot has an RTP of 96%. It's not the highest RTP we've seen on slots, but games with impressive jackpot amounts usually return around 96% or less. Keep in mind that the RTP is just an average estimation. Ultimately, your wins on a slot depend on your luck.
Fortunes 88 is a medium-volatility slot. It means that there's a compromise between high-volatility games (which give rare but huge rewards) and low-volatility games (which give frequent but small wins).
Mobile Accessibility
The 88 Fortunes slot performs well on a mobile screen. You can access it through your browser when you play at a mobile online casino. But if you prefer apps, you can use the 88 Fortunes Android or iOS app.
88 Fortunes Game Rules
If you've ever played a slot with real money before, you'll easily figure out how to play 88 Fortunes. The gameplay is fast and user-friendly. Here's how to start playing:
Make sure there's enough money in your balance. If not, you can make a minimum deposit and start placing small bets.
The slot lets you adjust your bet from $0.8 to $88 per spin. We don't recommend making high bets on slots.
Hit the spin button and wait for the outcome.
The slot will highlight the winning reels. If you're lucky enough, you'll activate the Wild feature and win a jackpot.
We always recommend choosing a casino with great welcome bonus offers. Such a promo gives you a chance for additional 88 Fortunes casino games & free slot machine games.
Symbols of 88 Fortunes Casino Slots Games
You'll understand the gameplay better if you know what the symbols mean. Here's some help with that:
Chinese Dollar Coin
3 = 0.20

4 = 0.40

5 = 2.00

Chinese Ingots
3 = 0.50

4 = 1.00

5 = 5.00

Turtle
3 = 0.80

4 = 1.60

5 = 8.00

Ship
3 = 1.00

4 = 2.00

5 = 10.00

Bird
3 = 2.00

4 = 4.00

5 = 20.00

J, Q, K, and A
3 = 0.10

4 = 0.20

5 = 1.00

FU BAT Wild
Substitutes any symbol to create a winning combo. It only appears on the second, third, and fourth reels. It may also trigger a progressive jackpot.
Gong Scatter
3 symbols trigger a bonus game.
Tips: How to Play Slots 88 Fortunes
You can win the grand jackpot only if you activate the Fu Bat Jackpot feature. For that, you have to see at least one Fu Bat symbol in the reels.
The only way to boost your chances of winning is to buy gold symbols. The slot gives you such an option both in the app and through any online casino you play. The number of gold symbols you have determines the number of coins you can win. An extra gold symbol will cost you 8 credits. It gives you a chance to unlock more progressives.
When you activate the bonus feature, you'll have some 88 Fortunes slots free coins (12, to be exact). You can choose one of them to win a progressive.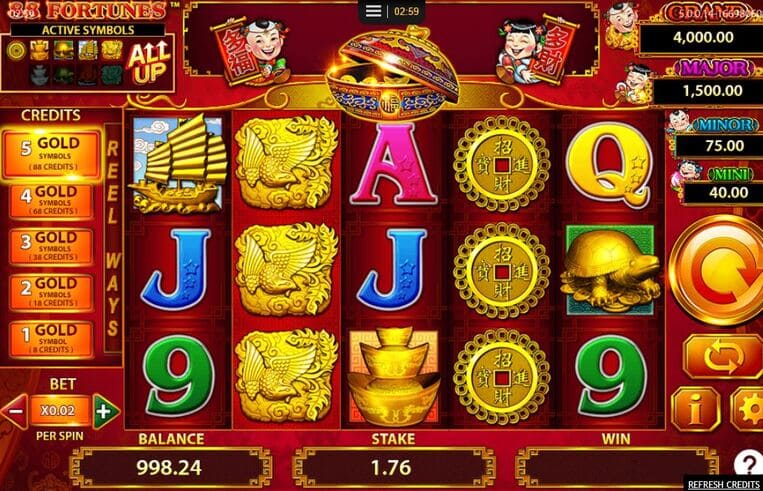 You should also watch out for the Gong Scatters. You need three of them to activate 10 free spins. During these free spins, only the high-limit symbols will appear.
The 88 Fortunes slot machine rules are fair and simple: rely on your luck to win. If you want to implement a strategy, you can try raising your bet until a winning combination appears. That way, a good win should cover the money you lost during previous spins. This is a risky strategy, but risk is an inevitable aspect of gambling.
88 Fortunes Casino Game Bonuses
The Fu Bat symbol triggers four potential jackpots:
Mini (you need one gold symbol to activate this feature)
Minor (you need 3 gold symbols for a chance to win a minor jackpot)
Major (a chance to win it requires 4 gold symbols)
Grand (you'll need 5 gold symbols for a chance to win this jackpot)
The maximum win you can land is 2,761 times your stake in the base game. The Grand 88 Fortunes slot jackpot brings a reward of 2.272 times your stake.
USA Casinos to Play Best Slots
FAQ
What's the best casino for playing 88 Fortunes online?

You should look for a few features when choosing a gaming site: 1. It has to be properly licensed. 2. It should feature a variety of banking options, including the payment method you plan to use for a deposit and a withdrawal. 3. It should give you a great welcome bonus with fair terms. We've shared several reviews of casinos that feature the 88 Fortunes game. You can read our recommendations to make a wise choice.
Is there a winning 88 Fortunes slot machine strategy?

One way to boost your chances of winning is to buy gold symbols, which would activate the greater jackpot features.
What's the 88 Fortunes RTP?

The slot has a relatively high RTP of 96%.
Is there a 88 Fortunes free coins hack?

No. There are several "88 Fortunes free coins generators" being marketed around the web, but none of them work. The only way to win is through fair play.
Can I play 88 Fortunes free online?

Yes. The game is available for free through several casino sites. We recommend freeplay to see how its features work before you're ready to wager real money.
Is the 88 Fortunes slot game rigged?

No. SG Interactive is one of the most prominent game developers. Its software is programmed to deliver 100% random results.
Is there an 88 Fortunes slot machine free download?

Yes. You can find the app in the Android and iOS stores. Although the app is free to download, you'll still have to buy credits to win real money.