Ugga Bugga Slots Machine Review
Online casino info
Last updated
Mar. 1, 2023
Screenshots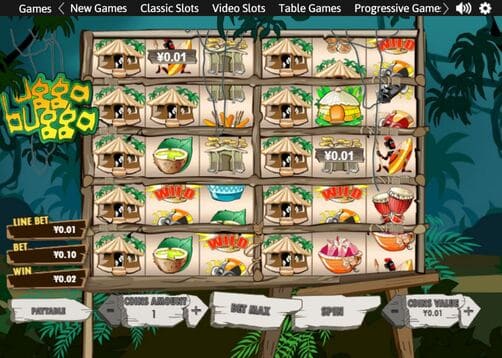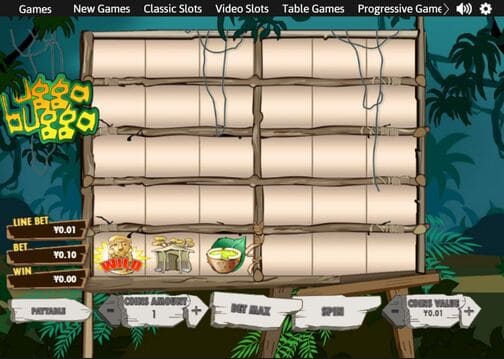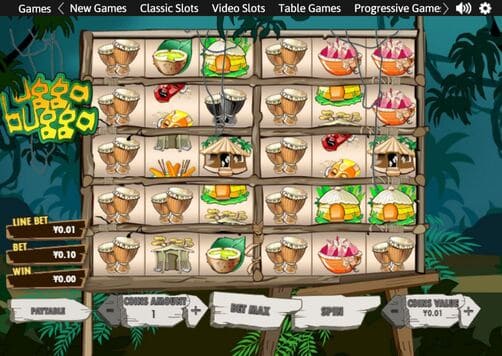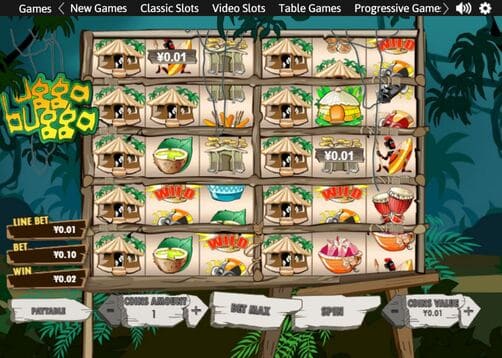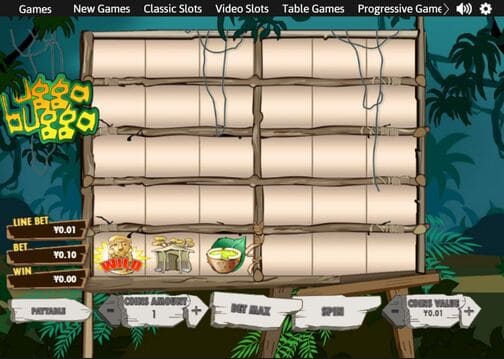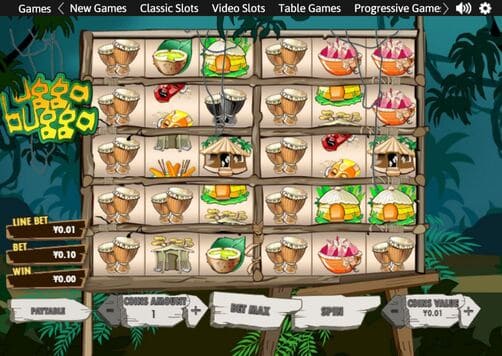 Ugga Bugga slot machine is an award-winning game from Playtech software provider. The game has become a favorite option among players around the world. In this Ugga Bugga slot review, you will find everything about the game, its popular features, bonuses, rules, and many more.
Elements of Ugga Bugga
If you want to get started with Ugga Bugga slot, you should know more about available symbols and features of the game:
Reels: 3
Paylines: 10
Min Bet / Max Bet: 0,10 – 0,50
Bonus Round: Yes
Free Spins: Yes
Mobile Available: Yes
Progressive Jackpot: No
Features of Ugga Bugga
The Ugga Bugga slot machine game will capture your attention with incredible features. Once you find yourself in the game, you will see ten sections with 3 symbols in every section. In addition, there are wooden frames that split each section creating a 3×1 row. This means that every 3×1 section works as one pay line.
The key question is how can you win Ugga Bugga slot machines. The only method to claim win is by hitting three identical symbols on one of these sections. It is also possible to choose how many coins you want to use as well as the value of each coin.
Theme and Storyline of Ugga Bugga Machine
Ugga Bugga comes with its logo on the screen, the line bet, and bet and win feature. You can also adjust the options and special features of the game. After you check the paytable, you can start with spinning the reels by clicking the Spin button. There is no clear-cut Ugga Bugga strategy because slot games are all about luck. However, you can always test Ugga Bugga slot free play and find out how the game works before opting for the real money version.
The slot action takes place somewhere in the woods and in the night. This makes the creepy and adrenaline increasing. Symbols of the game are all about the fictional story around woods, drums, jungle, and tribes. You won't find symbols of lower or higher value because everything works as high.
Bet Sizes, RTP and Variance
Ugga Bugga slot online comes with a massive RTP of 99.07%. Players should also know that the title has a low variance, so you can count on frequent wins of a smaller amount.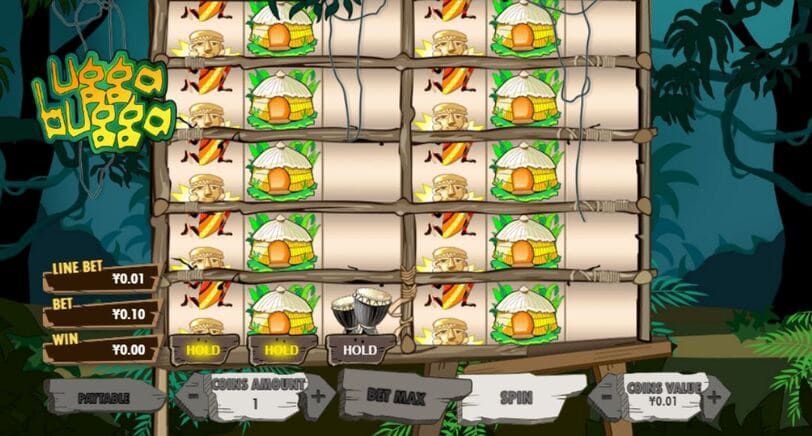 When it comes to the bet size, you can adjust it between $0,10 which is the minimum bet to $50 as the maximum bet. As a result, the maximum you can get per line is 1000x the bet or 10,000 as the total award.
Playing Ugga Bugga on Mobile
If you want to get started with the popular slot, you can opt for Ugga Bugga playtech for mobile phones. The game works perfectly on different devices including Android and iOS, and you can join the action any time. Mobile gaming is especially popular among users who like playing on the go.
Rules of Ugga Bugga Slot
Ugga Bugga slots rules are simple. Once you find yourself at the casino of your choice, you just need to launch the game, choose the coin denomination you want and press the spin button. Pay attention to the wild and scatter symbols as they can increase your winning chances.
Bonuses in Ugga Bugga Slots
The most important bonus features of Ugga Bugga online slots are expandable wilds and warrior scatter. However, you should know more about symbols that can trigger the same.
First, there are wilds appearing in the form of a shining mask. It replaces all other elements of the game and can lead to the 1000x winning.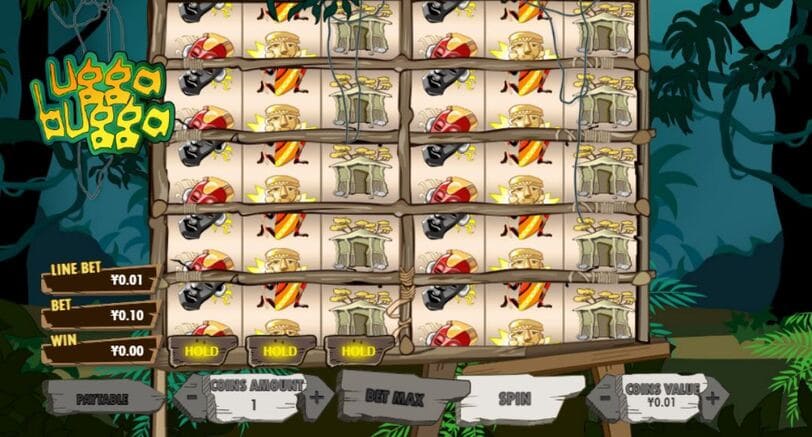 There is also a Hold Feature in the game. This means that every spin you make is split into two steps. The first step is to click the spin button, which will lead to the spinning of one row.
Once you hit the three symbols, you should choose one of them to hold. Upon spinning one more time, you will know if it lands on the other rows.
You can also opt to hold a symbol depending on your opinion if the symbol is lucky one.
Betting Limits Ugga Bugga Slot Machine Online
Ugga Bugga slot is the right option for both high rollers and those on a small budget. The minimum wager is 0.10 per spin and you can also choose to bet up to 250 per spin by changing the bet settings from the control panel.
Get Free Spins
Ugga Bugga slot doesn't have free spins, but you can find other interesting rounds that take your experience to another level.
Progressive jackpot
Ugga Bugga slot doesn't have a progressive jackpot, and you should keep your focus on the typical bonus elements of the game. This includes free spins, expandable wilds, and more.
US States to Try Some Great Slots
FAQ
Where to play Ugga Bugga slot?

Many casinos offer the game, but you want to select reputable and licensed brands.
What casino has Ugga Bugga slot machine?

You will find the game at different online casinos, because the game is known on the worldwide level. This means you will enjoy it on a regular basis.
How to play Ugga Bugga slot machine

The gameplay is simple. You just set the bet and press the spin button. From that moment, you hope for the best or matching the right symbols.
What does the Ugga Bugga slot machine look like?

Ugga Bugga slot stands out with tiki-themed symbols. You will find them available in four groups - masks, huts, drums, and food bowls.
What is the Ugga Bugga slot machine?

This is a famous slot machine from Playtech software with 3 reels and 10 paylines. You will like it because of the Tiki Jungle theme and combination of different symbols.