Online Casinos Virginia
Virginia is one of the strictest states regarding gambling. We're not talking just about online gambling, which has been late to develop across the entire USA. Virginia citizens are still expecting to enjoy land-based casinos. State legislation that approved casino resorts was passed in 2019.
Internet gambling still not legal. At the moment, most gamblers from this state cross the border to legally access Virginia online casinos. Social gambling sites are another option to consider.
Are there any online casinos for Virginia real money? There's been a lot of progress with positive legislation, so it's safe to expect changes for the online casino industry, too. Let's discuss all aspects of online gambling in this state.
Top 1


888 Casino NJ
Bonus
$20 No Deposit Bonus
Top 2

Stake.US
Bonus
250m GC + Free 25k SC Every Week
Top 3


Caesars Casino MI
Bonus
100% Match up to $2,000

Bonus
100% Up To $1,000 + $25 Token

Bonus

Bonus
$300 CPA on Min Deposit of $50

Bonus
$200 Free Play with First $50 deposit

Bonus

Bonus
Get up to $1000 back plus $100 Casino Bonus

Bonus
First Bet bonus up to $500
Regulations for Virginia Online Casinos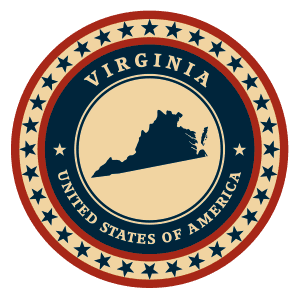 The current legislation in Virginia doesn't leave any opportunities for licensed online casinos to operate.
In July 2021, the Virginia Lottery Board approved the proposed permanent regulations for casino gaming. This legal framework finally allowed land-based resorts to operate, but gambling sites are still not mentioned.
What opportunities do you have?
You can enjoy online horse race betting instead of casino gambling. That's 100% legal.
Consider crossing the border to play at online casinos in West Virginia and Tennessee.
Visit offshore gambling sites that accept players from the USA.
Consider sweepstakes gaming as your safest option to gambling online.
The legal age for accessing offshore online casinos is 21.
Offshore sites are licensed and regulated by foreign authorities (usually from Gibraltar, Malta, and the Isle of Man). Although they are safe and controlled, they aren't subjected to the U.S. legal system. In case of any disputes, it would be difficult to take legal action. That's why sweepstakes casinos might be a better option for Virginia gamblers.
US States with Legal Online Casinos to Play
Social Casinos – An Alternative to Consider

If you don't like the hassle of crossing the border to access Virginia casinos online, you may like the option of sweepstakes (social) casinos. In sweepstakes casinos, you can purchase gold coins to play more. These don't hold any monetary value. However, the casino will grant sweeps coins – virtual currency that works like standard credits on real-money casino sites. If you win, you can exchange sweeps for different prizes or cash.
Chumba Casino is one of the most popular sweepstakes websites in the USA. It's a great alternative to casino sites for gamblers from states that haven't legalized online gambling yet. It's identical to a real-money casino in terms of the games it provides (slots, progressive jackpot games, and table games). It's a bit more complicated to load your account with funds and exchange them for money, due to the dual-currency system. However, you'll quickly get used to the system once you start playing.
The Virginian laws don't prohibit entering sweepstakes.
What's the Deal with Land-Based Casinos in Virginia?
Virginia doesn't allow Indian casinos. State legislators passed laws that allow casino resorts to be built in 5 cities. They are expected to be licensed by April 2022, and the construction will start immediately after that. We expect to see luxury resorts operating in 2023.
Online Casino Games to Play

Although you can only access offshore and sweepstakes sites in Virginia, they will offer the same games you would play at online casinos Virginia. The sites we've reviewed offer a massive selection of games by various developers.
Online casinos offer a very similar gambling experience to land-based resorts. The social element isn't the same, but you'll enjoy the same games. The only difference is that they are fast-paced. You can also play live dealer games at offshore gambling sites. These are live broadcasts from studios, with real dealers and virtual players from all over the world.
These are the most common types of casino games that U.S. gamblers play online:
Poker

Online poker is responsible for the massive increase in the number of gamblers who play poker worldwide. It comes in a variety of versions, which mimic the traditional card game that you can play in land-based resorts. Free online poker games are also available. They are perfect for novice players, who would like to practice their skills.
Other Card and Table Games

Blackjack is another popular table game you can play. It moves at a rapid pace, especially if it's software based. Keep in mind that programmed games are developed by the RNG (Random Number Generator) principle, so they offer fair chances to win. You can also play blackjack with a live dealer online.
Other table games that are available online include roulette, craps, keno, and more.
Slots

Slots are the most popular category of online gambling games. The most popular websites include hundreds of them in their offer. You can play classic ones with fruit symbols, and more complex versions, such as Megaways slots. Progressive jackpot slots give you a chance to win millions.
The best thing about online slots is that you can play with minimum deposit bets below $1.
Be Responsible with Online Gambling!

With the easy access to online gambling, it's quite possible to take things too far. Problem gambling is characterized with the inability to stop making deposits, no matter how hard you try to set a small budget.
Online casinos should always be accessed for fun and for a limited period of time. The universal rule for gambling is simple: bet an amount you won't be sorry to lose.
If you notice any signs of problem gambling, you can rely on these websites for support:
As soon as casino resorts become available in the state, the Virginia Problem Gambling Treatment and Support Fund will be active, too.
FAQ
💎 Can I play casino games online in Virginia?

Internet gambling isn't legal in Virginia. Sweepstakes sites are the best alternative you have. Online horse race betting, Daily Fantasy Sports, and sports betting are legal.
🤔 Has Virginia legalized online casinos?

No; Virginia hasn't legalized gambling sites yet. This is one of the strictest states regarding casino legislation. It just passed laws that allow casino resorts to operate.
❓ What's the legal age for gambling in Virginia?

The minimum legal age for lottery products is 18. If you want to access sweepstakes sites or offshore gambling sites, you have to be at least 21 years old.
🏅 What's the best online casino for Virginia gamblers?

Sweepstakes gaming is your safest option for online gambling. Chumba Casino is one of the most popular websites in that category.
🎲 What casino games can I play online?

Online casinos mimic the real gambling experience. You can play slots and all types of table games (poker, blackjack, keno, roulette, craps, and more). Live dealer games are also available on offshore websites.