Indiana Online Gambling and the Legal Games to Play
The United States is one of those countries where you can't just go to the internet and log in to an online casino. It has very strict gambling laws, very different from PA online gambling or online gambling in New Jersey. One of the primary reasons for this is the decentralized regulation of the industry. The states regulate their own legislation instead of the federal government.
Speaking of the states, we're going to focus on online gambling Indiana today. The Hoosiers have been cherishing the dream of participating in gambling without getting into trouble. On this page, we're going to dissect the legal status of online gambling in Indiana and what the future might hold you for.
Best Online Gambling Sites in Indiana
Top 1


888 Casino NJ
Bonus
$20 No Deposit Bonus
Top 2

Stake.US
Bonus
250m GC + Free 25k SC Every Week
Top 3


Caesars Casino MI
Bonus
100% Match up to $2,000

Bonus
100% Up To $1,000 + $25 Token

Bonus

Bonus
$300 CPA on Min Deposit of $50

Bonus
$200 Free Play with First $50 deposit

Bonus

Bonus
Get up to $1000 back plus $100 Casino Bonus

Bonus
First Bet bonus up to $500
Legal Status of Indiana Online Gambling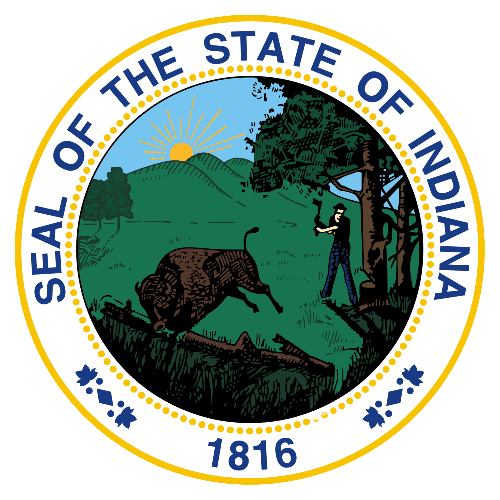 For the longest time, state runners have been reluctant to regulate online gambling in any way. The legacy of physical casinos, especially riverboat casinos has been long-standing in this US state. For some reason, online gambling never crossed the minds of the regulators.
It all started to change in 2016 when Daily Fantasy Sports was legalized. The next blow came in 2019 when online sports betting was finally legalized. All residents over the age of 21 can participate in these activities.
So, the next logical question is, is online gambling legal in Indiana for casino games?
Well, the answer is still no. Although there's no reason for you to lose hope because Act SB 417 is still in progress. If this bill is passed, a new era of Indiana online gambling will open upon the residents.
Except for sports betting activities and Daily Fantasy Sports, the Hoosiers can participate in online poker Indiana Gambling, online lotteries, and social casinos.
As of the current legislation, every online brand must be partnered up with at least one brick-and-mortar casino in the state. It's to ensure that the operator is operating with proper licenses and fairness practices.
Legal Gambling Online Indiana: What Are Your Current Options?
Indiana online gambling is not as niche of a market as many people believe. There are still substantial gambling activities that you can enjoy without breaking any laws.
State Regulated Sports Betting

Considering America's love for sports and betting, the Indiana law on online gambling has legalized online sports betting through Bill 1015 in 2019. However, you must play at sportsbooks that comply with Indiana online gambling laws. It means your options for searching offshore operators are quite limited.
Social and Sweepstakes Casino

Social casinos and sweepstakes casinos are pretty all you can get in terms of online casinos in Indiana. If you're not familiar with the terms, these free online gambling Indiana casino models have been popularized to get past the strict Indiana online gambling laws.
Basically, a sweepstake casino is where you "sweep" your coins or stakes for real money prizes. Although it's not a traditional "casino" on paper, it's as close as it can get.
The social casinos, on the other hand, are entirely based on the concept of gold coins. On paper, you're playing free games with your social "friends". You get the buy gold coins for real money and use them as stakes. These gold coins are a one-way transaction so you can't redeem them later.
However, the interesting part is the sweep coins. These are "bonuses" that you receive for playing the game and they are redeemable for real money.
Online Poker Indiana Gambling

Technically, online poker rooms are also illegal in Indiana. However, the legislation is drawn from an operator's perspective. Land-based casinos, on the other hand, can openly offer poker rooms for the players.
The safest way to go about online gambling in Indiana is to play at online poker sites that are classified as Sweepstakes casinos. Using the same principle we've stated in the previous sections, you can play and win real money in online poker.
Lottery Indiana Law on Online Gambling

The iconic Hoosier Lottery needs no new introduction in this state. It's the only state lottery that started its journey back in 1989. There is even an app for it but it only works as an information portal. The Hoosiers are also welcome to participate in multi-state lotteries.
As for online gambling in Indiana, lotteries are not an option just like all other activities.
Indiana Online Gambling Casinos

Now that you're familiar with social Indiana online casinos and sweepstakes casinos, let's see what games you can play there. Whenever casino operators are concerned in Indiana, Chumba Casino, Funzpoints, and Global Poker come to mind.
All of these sites host a nice combination of slot games, Texas Hold'em Poker, blackjack, roulette, keno, and video poker games. Using the clever technique of buying gold coins and winning sweep coins, you can have a good time as well as make some money.
US States with Legal Online Casinos
Indiana Online Sports Gambling

You already know that online sports betting is now officially legalized in the US state of Indiana and state-regulated operators are your only option. Some of the partner sportsbooks are DraftsKings, BetMGM, FanDuel, PointsBet, WynnBet, and Unibet.
If you're familiar with the iGaming industry, these names should ring more than just one bell in your head. All of them are very much respected brands all over the world. In terms of your options, you can partake in any standard activity you can think of at an online sportsbook.
At these sportsbooks, you get access to all premier sports events from all over the world. High-voltage international soccer leagues, cricket tournaments, domestic football leagues, international tennis, and whatnot!
A big part of sports betting in Indiana is horse racing. Whether you're comfortable with your desktop or mobile devices, you can use them for betting on sports betting. TVG is considered one of the top selections among horse racing enthusiasts.
How to Get Started with Best Online Gambling Sites Indiana

To participate in any kind of online gambling activity in Indiana, or in any other part of the world for that matter, you'll need an account.
Opening an account is more or less identical for all operators. Let's take a look at the general steps of signing up at a casino.
Make sure the operator you're choosing is licensed by the Indiana Gaming Commission. Find the "Join Now" or "Sign Up" button on the website and click on it.
You're most likely to come across a form where basic information is required to verify your identity.
You may have to upload certain documents such as your ID, driver's license, and credit cards.
After the verification is done, you can fund your account with real money and start playing.
Play Responsibly at Legal Gambling Online Indiana

Do you know why gambling laws are so strict in the US? It's primarily to protect Americans from the pitfalls of problem gambling. Although the legislation is coming together across all states, you should never lose sight of your own wellness.
So, every time you participate in online sports gambling Indiana or at social casinos, make sure you keep an eye on your bankroll, how much time you're spending on the games, and how you feel after a loss.
Chasing losses is one of the worst things you can do in both online and offline gambling scenarios. Sure, there are various 3rd party organizations to help players in need, but you should prevent seeking help in any case.
If you believe you require external help to control your gambling impulses, Indiana Problem Gambling Help is always at your disposal. It's a state-operated helpline to help players as well as the affected families.
FAQ
🤔 What kind of gambling activities are legal in Indiana?

With absolute certainty, you can participate in online sports betting and Daily Fantasy sports betting. Any other activities such as playing online slots or table games are prohibited. But using the concept of social casinos, you can still play them and win real money.
❓ What is the minimum age for online gambling in Indiana?

To participate in both offline and online gambling in Indiana, you must be 21 years old. This is not a loose requirement that you can get past by providing fake information. As the operators are regulated by the states directly, you have to go through a strict KYC (know your customer) process.
💸 How to deposit at gambling sites in Indiana?

For both deposits and withdrawals, you can use payment methods that are offered by the operators. You mostly get credit/debit cards, e-wallets, and ACH/eCheck, etc. options.