The Michigan State Lottery and How it Works
The state of Michigan USA is one of the few US states that have legalised the selling of online lottery games.
The Michigan State Lottery can be accessed by any Michigan resident aged 18 or over. If you'd like to find out more about the type of games you can play, including how to register and how you can make the most of the Michigan State lottery offers and promotions, please read on.
The Michigan Lottery Website and App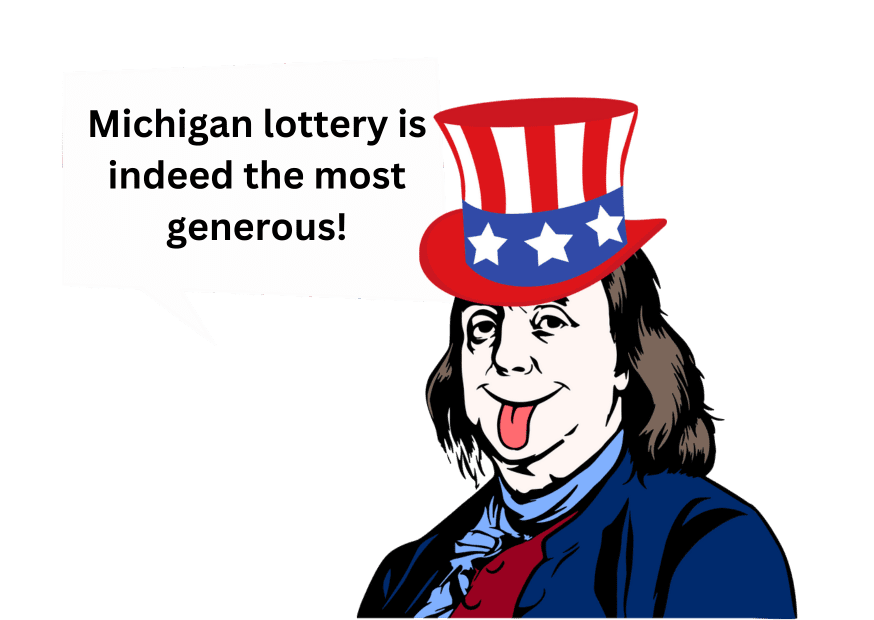 The Michigan online lottery comes under the rules and regulations appertaining to the Michigan law on gambling, as governed by the Michigan Gaming Control and Revenue Act. The forms of gambling now legally available in the state include tribal land-based casinos, bingo, horse racing, and the state of Michigan Lottery.
In order to play the online Michigan Lottery, you must be within the MI state boundary lines and be at least 18 years of age. The minimum age for sports betting or gambling at land-based casinos is 21.
To visit the online lottery Michigan website, go to https://www.michiganlottery.com/. This site downloads to your desk or laptop computer or mobile device via ts browser, immediately. There is also a Michigan Lottery App available for mobile devices, including iPads, iPhones, smartphones, and tablets. The app can be downloaded for free from the Michigan Lottery online website.
Once downloaded, in addition to playing Michigan iLottery games, their mobile app allows you to watch the Club Keno draws live, check Michigan Lottery results, view current jackpots, and locate any Michigan Lottery retailers near you.
How to Play the Michigan State Lottery

To play Michigan Lottery online games, you must first register a player account. To do this, you must be at least 18 years of age and be resident in the state. Their website uses a geolocation program.
The sign-up process is simple and only takes a few minutes. When you land on the website, click the blue "sign-up" button at the top of the page just right of centre.
You will need to supply some personal information, including the last four digits of your Social Security number. The Michigan Lottery USA website has state-of-the-art encryption ensuring that your personal details are kept safe and secure, away from prying eyes.
When you register, you will be given the opportunity to claim the Michigan Lottery online welcome bonus, which provides you with a 50% match plus $15 free to use on the site's most popular game on your first two deposits.
There are also two Michigan lottery promo codes you could use. "PLAYMICHIGAN50" and "MIBETS," either of which will entitle you to claim 50 free Instant Keno games. These promo codes also qualify you for a 50% up to $100 deposit bonus. You are only entitled to claim one of these bonuses, not both.
Michigan Instant Lottery Games

The Michigan Lottery website offers many instant online games, not only keno, but scratchcards too.
When we last checked, there were more than 130 various instant Michigan lottery games online with a range of top prizes starting at $20,000 up to $500,000, with tickets costing starting at $0.05 each and going up to $20 each.
Names include titles such as Egyptian Deluxe, where you reveal a winning number to claim the prize, and Ca$hBuster Extreme, where you have to reveal five or more adjacent blocks to be eligible for a prize. If you get six wins on the trot, you get a free bonus round. Michigan online gambling has never had it so good.
In addition, land-based lottery US Michigan retailers offer tickets for over 80 immediate win games with top prizes starting from $100 up to an amazing $4,000,000.00 with a ticket cost of anywhere from $1 to $30 each.
Michigan lottery U.S.A. Rapid Cash Games
The Michigan Lottery website also offers 10 rapid cash games, which build up progressively until the jackpot is won. Tickets for these fast games are priced from $2 to $20 each.
There are also 38 games known as pull-tabs. Tickets for these cost from $0.50 to $5 each and offer prices starting at $777 up to $30,000.
There is also something called second chance, where players can win entries into draws.
You can access all these games either from the Michigan Lottery website or the mobile app.
USA Lottery Michigan Draw
Lottery Michigan also offers draw games. Popular titles include:
Fantasy 5 – $1 per ticket
Lotto 47 – $1 per ticket
Mega Millions – $2 per ticket
Powerball – $2 per ticket
Via the Lottery site's website, you'll be able to view a series of statistics relating to these games, including paytables and past draw information.
The Powerball jackpot can rocket sky high because tickets can be bought in 44 different US states. The biggest prize to date, won on 13 January 2016, was an awesome $1.6 billion. Mega Millions also offers amazing jackpots, the biggest of which was $1 billion, won in 2021 in Novi, a satellite outlet of the Detroit, Michigan Lottery.
Keno at Michigan Lottery
There are 8 different Keno games available.
| Game | Ticket Prices | Top Prizes |
| --- | --- | --- |
| Bullseye Keno | $0.10 to $4 | $500,000 |
| Club Keno | $1 to $20 | $2 million |
| Fuzzball Keno | $0.10 to $20 | $200,000 |
| High Card Keno | $0.20 to $20 | $2,100,000 |
| Instant Keno | $0.10 to $20 | $200,000 |
| Instant Keno Multiplier | $0.25 to $20 | $500,000 |
| Keno | $1 | $250,000 |
| Top Shot Keno | $0.25 to $20 | $500,000 |
Options for Depositing Michigan Lottery

When you wish to deposit money at the Lottery Michigan website, there are several payment method options. They are:
ACH – Bank Transfer
Credit or Debit Card
Online Game Card
PayPal
Once you've registered an account with the website, making a deposit is quick and easy. Here are the steps to follow:
Visit the Michigan Lottery website and sign in.
Click on the four horizontal lines displayed at the top of the page.
Select the "Make a deposit" option.
Select your preferred payment method.
Enter the amount you wish to deposit (and promo code if you have one) and click "continue."
Review the deposit summary and click "submit" if you wish to proceed.
If you prefer not to share your banking information, you can purchase an online game card at any of the Michigan Lottery retail outlets via the clerk or self-service lottery machine.
When depositing online, choose the online game card option and enter the code displayed on the game card. That's all there is to it. You can do this via your computer or mobile device.
Withdrawing Cash Prizes from the Michigan Lottery Website

You can use all of the payment methods shown above in the "deposit" section to make a withdrawal, plus withdrawing at a retail outlet via the clerk.
Follow the same steps as shown above under "depositing," the only difference being selecting the "withdraw" option instead of the "deposit" option. The first time you make a withdrawal, you may be asked for proof of identity.
Wins of up to $600 will be credited to your player account once processed. Amounts over this sum, up to a maximum of $99,999.99, will require the submission of an online claim. Claims for prize money of $100,000 plus must be made and collected at the Michigan Lottery headquarters in Lansing.
The History of the Michigan State Lottery

Originally, what was the Michigan Lottery was officially launched in 1972, and the first game it offered was the 50-cent Green Ticket game which went on sale on 13 November and was drawn on 24 November of that year.
Multistate lottery games first appeared in Michigan in 1996 when the land-based Michigan Lottery site began selling tickets for what was then called the "Big Game," which has since changed its name and is now known as "Mega Millions."
The Michigan State online lotto operation was launched in August 2014 since, when it has grown exponentially, and today, it offers almost 100 games, 50 of which are instant win games, including Keno, and popular MI draw games, including Daily 3, Mega Millions, and Powerball. The Michigan lottery is said to be one of the most popular lotto operations in the whole of the United States.
What Michigan Lottery Profits Are Used for

Of their profits, approximately 35% of USA Michigan lottery proceeds are plowed into the Michigan educational system and local business network.
In 2018 and MI Lottery contributed nearly $1 billion to the state's School Fund and has also paid out nearly $3 million in the form of commissions. Since 1972, Michigan State Lottery has contributed over $22 billion to the School Aid fund.
Across the past decade MI Lottery retailers have received over $2 billion in the form of bonuses and sales commissions.
With approximately 1.5 million Michigan school children, it means that the lottery has, on average, contributed $600 per student.
Players of MI Lottery also benefit, receiving around $0.62 per $1 sale.
Michigan State Lottery and the IRS

Regrettably, you will have to pay Michigan gambling tax on your winnings. It doesn't matter whether you gamble at one of the retail outlets or on the Michigan Lottery website. It all has to be included as part of your gross, taxable income.
You'll have to pay 25% of your winnings to the Internal Revenue Service and an additional 4.25% to the Lansing folks for playing at their casino.
It's not just the Michigan Lottery, either. Winnings from Michigan online casinos are taxable too. In essence, you pay in the following circumstances:
If your accumulated winnings, or combination of bets and profits on any slots, are over $1,200.
If you run up a profit over $1,500 on a Keno game.
If you play in a tournament and win over $5,000 in a tournament
If playing a game and you run up a profit of over $600 or 30x plus on your wager.
You must report your winning on IRS form W-2G. There is no escaping the dreaded taxman.
Michigan State Lottery and Responsible Gaming

From the day it was first launched, Michigan State Lottery has taken a proactive approach to responsible gaming both at its retail outlets and its website. Anyone who feels they need support with an online gambling problem can use the website's live chat facility, or phone 800-270-7117, or text 248-648-3363.
FAQ
📲 What devices can I use to play Michigan Lottery online games?

You can play online Michigan Lottery games on almost any device, including desk and laptop computers, iPads, iPhones, smartphones, and tablets.
🔒 How safe is the personal information I provide to Michigan State Lottery?

Your personal information is totally safe, as the Michigan State Lottery website has state-of-the-art encryption.
🤔 Can I play the Michigan State lottery if I am out of state?

No, you cannot play out of state. The website uses geolocation technology to confirm your location.
💲 How do I collect my winnings if I win online?

If you win up to $600, the amount will be credited to your player account automatically. For amounts over $600 and up to $99,999.99, you can claim your prize through the website withdrawal procedure. Anything over $100,000, and you must submit an online claim and be prepared to visit MI Lottery headquarters in Lancing to collect your winnings.
🎁 How do I use a promo code on the Michigan lottery website?

When you make your deposit, select the "online game card" option from the drop-down menu.