Gun Lake Casino Michigan
Gun Lake Casino in Michigan is a premier gambling destination that offers an exciting and immersive experience located at 1123 129th Ave, Wayland, MI 49348, United States. Nestled in the picturesque beauty of southwest Michigan, this renowned casino boasts a wide array of gaming options, including slots, table games, and poker. With its state-of-the-art facilities, diverse dining choices, and captivating entertainment, Gun Lake Casino guarantees endless fun and thrilling moments for both locals and tourists alike. Here's our lowdown on this excellent destination.
Size: The casino floor spans over 160,000 square feet, offering ample space for gaming and entertainment.
Games: There are over 2,500 slot machines and 47 table games available, including classics like blackjack, craps, roulette, and more.
Poker room: The casino also features a 14-table poker room, offering daily tournaments and cash games for players of all skill levels.
Dining options: With seven dining options on site, there's something for every taste and budget. From upscale steak and seafood at Gun Lake Steakhouse, to quick bites at Harvest Buffet and Sandhill Cafe, there's no shortage of delicious options.
Hotel: The casino's luxury hotel has 300 rooms and suites, complete with modern amenities and stunning views of the surrounding area.
Entertainment: In addition to gaming, Gun Lake Casino hosts regular events and concerts at its 20,000-square-foot venue, Stage 131. Past performers have included REO Speedwagon, Three Dog Night, and more.
Overall, Gun Lake Casino offers an unbeatable combination of gaming, dining, and entertainment options, making it a must-visit destination for anyone in the area.
Gun Lake Casino Michigan: Essentials
| | |
| --- | --- |
| ✔️ Address | 1123 129th Ave, Wayland, MI 49348, United States |
| ⚡ Opened in | 2011 |
| ⭐ Casino type | Tribal |
| 💎 Legal gambling age | 21 |
| ✅ The area of casino | 160,000 square feet |
| 🎰 Amount of slots | 2,500 |
| 🔸 Amount of table games | 47 |
| ⚜️ Amount of poker rooms | 14 |
Online Gambling Partnerships at Gun Lake Casino Wayland, Michigan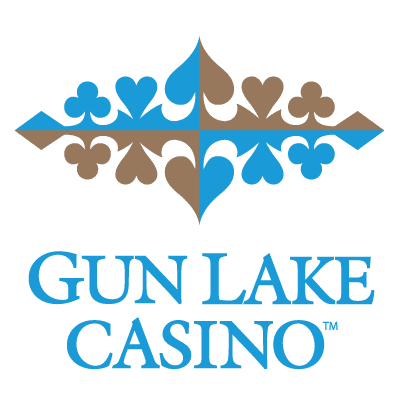 For people who prefer online gambling in Michigan, Gun Lake Casino has taken a bold step into the world of online gambling partnerships. Recognizing the growing demand for virtual gaming experiences, they have teamed up with Parx Casino® to offer an unparalleled digital gaming experience.
Through these strategic partnerships, Gun Lake Casino Michigan online now provides a wide range of online games, including slots, table games, and live dealer options. This exciting collaboration allows players to enjoy their favorite games from the comfort of their own homes while still experiencing the thrill and authenticity of a land-based casino.
Many patrons even say that Gun Lake online Casino Michigan is the best online casino Michigan has to offer! You can access the site at PlayGunLake.com. There are also mobile apps in the Google Play store and the App Store. Look out for Gun Lake Casino promo code Michigan offers too!
The Gun Lake Casino Establishment

For those looking to explore the physical casino in Gun Lake Michigan, you won't be disappointed. This renowned establishment offers an exceptional gaming atmosphere. The floor is a captivating blend of excitement and sophistication, boasting an extensive selection of slot machines, table games, and poker rooms. Whether you're a seasoned gambler or a novice seeking some fun, Gun Lake delivers an unforgettable gaming adventure for everyone. It has impeccable service, a vibrant ambiance, and the potential for big wins. Here is some more information about what to expect on your visit.
Slot machines at Gun Lake Casino Grand Rapids Michigan
This casino at Gun Lake Michigan has more than 2,500 slot machines. As you can imagine, you can see a huge range of different types of games, including classics and options like Wheel of Fortune. These are all updated regularly too.
Table games for days
No matter who you are, Gun Lake Michigan Casino is for you. Whether you're a veteran table game player or a complete novice, you'll be made to feel welcome. There are 47 tables in total and you can play things like Progressive Mississippi Stud, Three Card Poker, Progressive Four Card Poker, Progressive Ultimate Texas Hold'Em, and more.
Gun Lake Casino Poker Room
Michigan Gun Lake Casino has a poker room too. All of the details are available on the Bravo Poker Live App, which players can find in all of the app stores. This tells you how to access the details of the Poker room.
The room is open every day, but it closes between 4 am and 10 am on Mondays, Tuesdays, and Wednesdays.
Rewards at Gun Lake Casino

For those looking to make the most of their experience at Gun Lake Casino, there is an exclusive rewards program. This gives players access to points, rewards, and exclusive benefits. You can earn Rewards Points and Rewards Dollars.
The Rewards Dollars and competitions can be accessed and used freely. Players have one year to earn their rewards, which means a longer time to hold onto them. There is a system with five tiers so that it is easier to get to the next level compared to similar rewards systems elsewhere.
Whenever you play games with your Rewards card you get points as follows:
For every $1 wagered on slots or on Keno, you get 1 point.
For every $1 wagered on video poker, you get 1 point.
For table games, you get points calculated by the average bet amount multiplied by the hours played.
You also get points for spending on site:
You get 1 point for every $1 spent in the Appliques Gift Shop, Shkodé, CBK, 131 Sportsbar & Lounge, and Grab & Go. This doesn't include money spent on alcohol, however.
Points can be redeemed for slots, table games, food, and drinks. For every 500 points you earn, you get $1 to spend.
Reward Levels
There are four levels on the program:
Experience = no points required
Preferred = 7,500 points
Reserve = 30,000 points
Elite = 120,000 points
Each level gives you more benefits. For example, at the Preferred, Reserve, and Elite levels, you get $1, $2, or $3 discounted off cigarette purchases respectively. You also get 10%, 15%, or 25% off dining, gas, and the gift shop.
Reserve and Elite customers also benefit from a 25% or 50% reduction in credit card fees respectively.
Finally, Elite customers have priority seating at Harvest Buffet, a 50% alcohol discount, priority valet and parking, and access to the VIP gated parking garage.
Fun and Relaxation at the Gun Lake Casino Sportsbook

At Gun Lake Michigan Casino, there's also a great sports book. The 131 Sportsbook & Lounge offers all sorts of bets, including over/under, single bets, spreads, and more. People can bet on football, baseball, basketball, boxing, race, and much more besides, including collegiate sports and professional sports.
There is also a full-service bar with video walls so you can keep your eyes on several events at once! The sports book is open between 12 pm and 10 pm Monday to Friday and from 10 am to 10 pm on Saturdays and Sundays.
The sportsbook has a Bet Builder App where you can form bets ready to take to the counter to place. The apps are available on both iOS and Android.
Amenities and Facilities at Gun Lake Casino

Though Gun Lake isn't one of the casino hotels Michigan has to offer, it does have partner hotels. You can find information about Gun Lake Casino hotel Michigan partners on the website.
There are, however, lots of great amenities at Gun Lake Casino. This includes places to eat, drink, shop, and be entertained.
For dining, entertainment, and drinks, CBK (Craft Bar Kitchen) offers it all. There is entertainment provided by DJs operating sets. The events are listed online.
The previously mentioned 131 Sportsbar and Lounge also offers shows as well as classic food options and sports betting.
Other food options include Harvest Buffet, Shkodé Chophouse and Grab & Go. The Gun Lake Casino Buffet Michigan is where you can receive discounted and special seating in the rewards program. Shkodé Chophouse is the place to go for 'surf 'n' turf' – in other words, steak and seafood. Finally, Grab & Go, as its name implies, is for quick bites for those who don't want to spend too long away from the tables or slots.
In terms of bars, besides CBK and 131 Sportsbar and Lounge, there are two other bars in the venue. These are Crossroads and Chill.
Hotels near Gun Lake Casino in Michigan
Gun Lake Casino in Michigan is a popular gaming destination that offers a luxurious hotel on site for its visitors. However, if you are looking for other lodging options nearby, here is a list of hotels with their addresses:
Bay Pointe Inn: 11456 Marsh Rd, Shelbyville, MI 49344
Comfort Inn Plainwell: 622 Allegan St, Plainwell, MI 49080
Delano Mansion Inn: 302 Cutler St, Allegan, MI 49010
Holiday Inn Express Hotel & Suites Grand Rapids – South: 6569 Clay Ave SW, Grand Rapids, MI 49548
Hampton Inn Grand Rapids-South: 755 54th St SW, Wyoming, MI 49509
These hotels offer comfortable accommodations within close proximity to Gun Lake Casino, making them a convenient choice for visitors who want to explore the area beyond the casino's own hotel.
FAQ
Where is Gun Lake Casino in Michigan?

Gun Lake Casino is on 129th Avenue in Wayland, Michigan. It is located just off Route 131, south of Grand Rapids.
What town is Gun Lake Casino in Michigan?

Gun Lake Casino is in Wayland, which is a city in Allegan County. It has a population of around 4,000 people.
How do you get to Gun Lake Casino from Grand Rapids Michigan?

From Grand Rapids, take Route 131 south towards Kalamazoo. Gun Lake Casino is around 24 miles away from downtown Grand Rapids.
Is there a Gun Lake Casino promo code Michigan residents can use?

There are frequently posted promo codes for Gun Lake Casino. A quick search online will bring up the latest ones.
How do you get from Gun Lake Casino to Michigan Adventure?

Michigan Adventure is around one hour's drive from Gun Lake Casino. To get there, travel north on Route 131. At Junction 89, take the I-96 towards Lansing/Muskegon. At Junction 1B, take the US-31 North then get off at Exit 121.