Legal Gambling Age in NJ
Before venturing to
NJ online casino sites
and physical casinos, it's important to understand the law surrounding when you can engage in gambling activities. New Jersey state has put age restrictions in place to ensure the well-being of the New Jersey population. It also helps to maintain a regulated gambling industry. As such, the NJ legal gambling age is 21.
Top 1


888 Casino NJ
Bonus
$20 No Deposit Bonus
Top 2

Stake.US
Bonus
250m GC + Free 25k SC Every Week
Top 3


Caesars Casino MI
Bonus
100% Match up to $2,000

Bonus
100% Up To $1,000 + $25 Token

Bonus

Bonus
$300 CPA on Min Deposit of $50

Bonus
$200 Free Play with First $50 deposit

Bonus

Bonus
Get up to $1000 back plus $100 Casino Bonus

Bonus
First Bet bonus up to $500
What Is The Legal Gambling Age in NJ Casinos?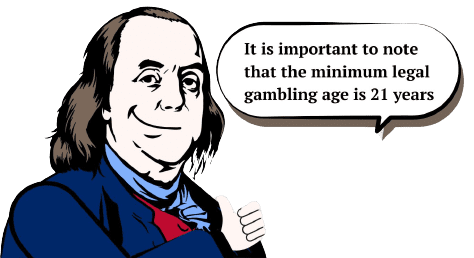 Whether you intend to visit NJ online gambling sites or visit a brick-and-mortar casino, you'll have the same rules apply. The minimum age is 21 years old for both types. In New Jersey, the legal gambling age serves as a crucial guideline for individuals who wish to partake in various gambling activities. This age restriction applies to any type of casino gambling, including slot machines, table games, and poker.
What is the legal gambling age at casinos in Atlantic City, NJ?
The gambling age in AC NJ is the same. Atlantic City is renowned for its vibrant casino scene, and it follows the same legal gambling age requirements as the rest of New Jersey. The minimum age for individuals visiting casinos and engaging in gambling activities is 21 years old.
It is important to note that the Atlantic City NJ gambling age is strictly enforced to ensure compliance with the law and maintain a safe gambling environment. Various measures, including identification checks, are employed to verify the age of patrons before granting them access to the casino floor.
What Is The Legal Gambling Age in NJ for Sports Betting?

In the US, the state of New Jersey has been at the forefront of legalizing and regulating the sports betting industry. As a result, the state has established strict age requirements to ensure responsible participation in sports wagering.
Like the gambling age in NJ, people must be at least 21 years of age to participate in any form of sports betting. This applies to both in-person betting at licensed sportsbooks and betting through online platforms or mobile apps.
What Is Minimum Gambling Age in NJ for Poker?

The legal poker age in New Jersey is also 21 years old, reflecting the general NJ gambling age. Players must be at least 21 to take part in any poker games at a licensed poker room in New Jersey.
Whether it's poker rooms within Atlantic City casinos or standalone poker establishments, the minimum age requirement remains the same.
What Is The Legal Gambling Age in NJ To Bet On Horses?

New Jersey has a long horse racing tradition, and there are several racetracks where you can enjoy the excitement of live horse racing and place bets on your favorite horses. Additionally, off-track betting facilities, also known as OTBs or simulcast wagering locations, allow patrons to bet on horse races happening at tracks around the country.
Unlike the overall legal gambling age NJ state imposes, the horse gambling NJ age is 18. Anyone over the age of 18 is eligible to place wagers on horse racing events at licensed racetracks and off-track betting facilities in the state.
What is the minimum gambling age in the NJ Lottery?

To play the lottery in New Jersey, you must be at least 18 years of age. Unlike the online gambling age NJ requires, the legal age requirement for participating in the state lottery is 18, which applies to all lottery games offered in New Jersey.
The New Jersey Lottery offers a variety of games, including scratch-off tickets and draw games like Pick-3, Pick-4, Jersey Cash 5, Mega Millions, and Powerball. Whether you purchase lottery tickets from authorized retailers or participate in online lottery options, the minimum age remains the same.
What Is The Legal Gambling Age in NJ For DFS?

Individuals must be at least 18 to take part in Daily Fantasy Sports (DFS) contests offered by authorized operators in the state.
Daily Fantasy Sports has gained popularity in recent years, offering participants the opportunity to draft virtual teams of real professional athletes and compete against others based on the statistical performance of those athletes in actual games. In New Jersey, DFS operators are legally required to adhere to the minimum age requirement of 18.
What are penalties for under age gambling in NJ?

Engaging in underage gambling in New Jersey can result in various penalties and consequences. The state takes the issue of underage gambling seriously to protect the well-being of its residents and maintain a responsible gambling environment. Here are some potential penalties for underaged gambling in New Jersey:
Legal Consequences: Underage gambling is a violation of state law. Individuals found to be participating in gambling activities while under the legal gambling age may face legal repercussions. This can include fines, mandatory counseling or education programs, community service, or other legal sanctions.
Loss of Winnings: If an underage individual is caught gambling and has winnings, those winnings may be forfeited. Any confiscated funds are allowed to be used for public purposes or they might be distributed in accordance with the state's laws and regulations.
Restricted Access: Casinos, poker rooms, sportsbooks, and other gambling establishments may ban individuals caught engaging in underage gambling from their premises. A ban can be temporary or permanent, depending on the how severe the offense was.
Impact on Future Opportunities: Having a record of underage gambling can have long-term consequences. It may affect an individual's ability to obtain certain licenses or employment in the gambling industry or related fields.
The penalties issued for underage gambling vary depending on the specific circumstances and jurisdiction. The severity of any penalty will also depend on whether it is a first offense or if the person has a history of underage gambling.