Online Sports Betting in Delaware: Amazing Options for Gamblers
Delaware has a big advantage over other states when it comes to gambling – they are the first state other than Nevada to make sports betting in Delaware legal. In 2018, the Governor announced that the three land-based casinos will launch a full-scale sports gambling operation starting June.
This means that Delaware online sports betting beat New Jersey sports betting and other states across the finish lines. Even though there was a hiccup along the way when major professional leagues and the NCAA sued Delaware to stop it from authorizing sports wagering in 2009, it was a matter of time for this state to reauthorize Delaware sports betting online (after the overturning of PASPA).
For you as a gambler, this means plenty of opportunities to bet online on sports and matches, teams and even fantasy sports. Let's have a look at what they offer.
Online Sports Betting Delaware: What are Your Choices?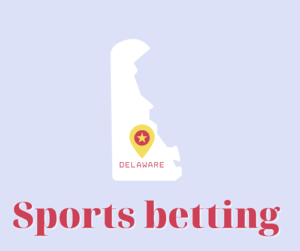 At the time where PASPA prohibited states from regulating and authorizing this type of gambling, this state was one of a handful of US states to offer at least some sort of sports wagering. Even though they didn't have single game betting like Nevada, the state lottery included a parlay-style NFL wagering (this was called Scoreboard).
In 2009, the state tried its best to leverage the exemption when they introduced a bill to allow betting on game outcomes. However, the NCAA, NHL, NFL, NBA, and MLB joined forces and sued to prevent this from happening.
They succeeded in doing so, but not for long. Delaware never formally repealed this law so, when in 2017 the Supreme Court ruled in favour of New Jersey and made PASPA unconstitutional, Delaware was able to get ahead of all competition – and even beat New Jersey to the punch.
The first-ever legal wager was placed on behalf of John Carney, the governor in 2018. He bet on the Phillies, which turned out to be a winning bet. Today, many online gambling options that are legal in Delaware. Players can gamble on:
Sports including football, handball, baseball, tennis, basketball, and more
Horse race betting
Daily fantasy sports betting
Online gambling
Daily fantasy sports
Laws and Legalities for Online Delaware Sports Betting

The abovementioned categories are all legal in Delaware. Just two months after PASPA was overturned, Delaware authorized retail sportsbooks starting with its three existing casinos. Today, players can do Delaware Park sports betting online, play at Dover Downs on the Web, or gamble at Harrington from their mobile.
To be eligible to do desktop or mobile sports betting Delaware or any other type of gambling, you need to be at least 21 years old. Both poker and online gambling are legal within the state and under the law, each land-based casino can offer online games including poker to customers based within the state lines.
All three online gambling sites were launched in 2012.
Apps for Sports Betting Delaware Mobile

There are three land-based casinos that can legally offer sports and online casino betting to players within the Delaware borders. Alternatively, people in this state can choose to gamble on sites operated by other states, but in such cases, Delaware laws do not apply.
The three most popular apps available today are:
Delaware Park app
DoverDowns app
HarringtonGaming app
In addition to downloading an app from these three state-based casinos, you can enjoy direct play both on your desktop and your mobile. All three sites are fully optimized, offer unique bonuses, and many game choices from top-rated software developers.
How to Sign Up at Delaware Sports Betting Casinos

Signing up on these sites is straightforward and simple. All it takes is a sign up form that you need to fill out with your personal information, and an initial deposit that allows you to claim the welcome offer. This is the same approach for most casinos online available to US players and Delaware residents.
In most cases, casinos will ask you to provide your name and age, location and address, email address and phone number, as well as some proof of identity at some point (usually before you make a withdrawal).
Pros and Cons for Sports Betting in Delaware Casino
Pros:
Delaware was the first state to legalize sports betting, which makes it the most experienced
Plenty of choices for sports betting and other types of gambling available
Great odds at top-rated website
You can bet on sports from your mobile thanks to optimized sites and apps
Gambling on sports is legal within Delaware borders
Cons:
Only the three land-based casinos can legally offer online sports betting to players in Delaware
If you choose to play at outside online casinos, make sure they are safe and high-rated since Delaware laws do not apply in such cases
Bonuses and Promotions for Sports Betting Delaware

With many options available to gamblers in this state, you can expect all sorts of bonuses and special deals. Some of our top-rated websites combine welcome bonuses, deposit and no deposit promotions, free spins, match bonuses, frequent promotions, and even VIP programs. Some of the best online bonuses you can find these days are:
Welcome promotions – usually deposit-based and may combine free spins
Deposit bonuses – you get some kind of a reward based on your deposit – could be free spins, bonus cash, etc.
No deposit bonuses – you get some kind of reward simply by signing up – no deposit required
Cashback – even when you lose, the casino grants you some of your money back
Guide for Delaware Sports Betting

Betting on sports within this state is same as doing this on any other reliable casino site in Delaware. You open the sportsbook, check the choices, and place your bets on the matches you prefer. You can both bet live or before the match begins, and there are plenty of options for players ranging between bets on teams, bets on players, over/under goals, handicaps, etc.
When gambling at Delaware, make sure to choose a safe site to do this on. Also, keep track of your budget – it can be easy to get carried away with so many choices at your disposal.
Deposits and Withdrawals at Delaware Casino Sports Betting Websites
Top-rated sites allow players to make their bets and wagers by using their preferred method. The most popular options today include credit and debit cards, as well as e-wallets like PayPal, Skrill and Neteller. US gamblers who want to keep better track and limit their betting budget are also given a chance to bet with vouchers and prepaid cards.
League Partnerships and Online Sports Betting Delaware
Let's discuss some recent partnerships that link Delaware with league teams:
Dower Downs in owned by Bally's Corporation, which hammered out a strategic partnership with the National Hockey League designating Bally as an Official Sports Betting Partner of the NHL.
Bally's Corporation also announced a second multiyear partnership with the National Basketball Association or the NBA. The partnership provides Bally's with access to the official league data, and rights to use official NBA logos and marks.
BPG Sports and the Delaware Blue Coats, an NBA G League affiliate of the Philadelphia 76ers, announced a multifaceted partnership with JPMorgan Chase to rebrand the multisport arena in Wilmington.
Where Can I Do Legal Sports Betting in Delaware?

You can find many sites that offer online sports betting to players in Delaware. The three most popular land-based and online options for players include:
Delaware Park sportsbook
Harrington Raceway
Dover Downs sportsbook
If you are at least 21 years old, you can do legal sports betting on these sites.
FAQ
🔒 Is it safe to bet on sports in Delaware?

Yes. This is legal and safe as long as you use the state sportsbooks or legit casino sites to do your gambling. Operators take measures and precautions to ensure that you have a safe sports betting experience.
❓ Can I get arrested for betting on sports in Delaware?

No. This is legalized in Delaware, so you cannot be arrested for placing such bets. If you choose to use a local bookie, you might experience security issues because they aren't regulated, but you can't get arrested for it.
🤔 What's the legal age to place wagers on sports in this state?

You need to be at least 21 years old to place wagers on sports or gamble in any way in the state of Delaware.
📲 Are there any apps I can download on my phone to bet on sports in Delaware?

Yes. Gamblers from this state have access to several top-rated applications to download on their phones and use for instant and direct gambling on sporting events of different kinds.
❔ Is it safe to use a bookie in Delaware?

No. Unlike casino sites that are regulated under Delaware laws, neighbourhood bookies are not. This makes it much safer for you to use online operators and legal casino platforms.
American Gambling Delaware (AG Services)
For any additional services you may contact us in our Delaware office to receive personalized reports and advice.