Experience the Unparalleled Atlantic City Casino Buffet
Every year, Atlantic City plays host to over 27 million visitors making it one of the most popular tourist destinations in the United States. Some come to shop while others like to enjoy the atmosphere of the boardwalk and Steel Pier. However, a large percentage of visitors come for the exciting casino gambling action.
After indulging in sightseeing and gambling activities, it's natural to develop a hearty appetite. Fortunately, Atlantic City boasts numerous buffet options that serve as the perfect remedy. So, when it comes to finding the best casino buffet in Atlantic City, let's explore some of the top contenders and determine what casino in Atlantic City has the best buffet and offer a unique dining experience.
Top 1


888 Casino NJ
Bonus
$20 No Deposit Bonus
Top 2

Stake.US
Bonus
250m GC + Free 25k SC Every Week
Top 3


Caesars Casino MI
Bonus
100% Match up to $2,000

Bonus
100% Up To $1,000 + $25 Token

Bonus

Bonus
$300 CPA on Min Deposit of $50

Bonus
$200 Free Play with First $50 deposit

Bonus

Bonus
Get up to $1000 back plus $100 Casino Bonus

Bonus
First Bet bonus up to $500
Buffets vs. Restaurants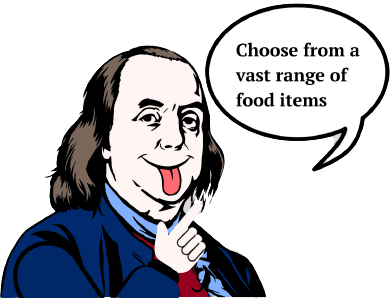 If you have ever eaten at casino restaurants in Atlantic City or anywhere else, then you know that you can choose from various dishes listed on a menu. For instance, you can order a steak with a choice of sides like vegetables, fries, or a baked potato. You could order fish and chips or you could go for a vegan dish. Either way, you get exactly what you order. Nothing more and nothing less.
Dining at a buffet is a lot different. Instead of being limited to a single menu offering, buffet diners can feast on a huge range of food items. If you feel like chowing down on some beef, then you can often choose from steaks, prime rib, and pot roasts. Do you want potatoes with that? Then you can choose from baked potatoes, mashed potatoes, and even stuffed potatoes.
In short, you can sample anything you see. You can mix and match main courses, sides, desserts, and beverages. And unlike traditional restaurant meals that don't always fill you up, a casino buffet Atlantic City allows you to eat as much as you want. You will not leave hungry.
The Best Buffet in Atlantic City Casino Resorts
If you want to know what casino in Atlantic City has a buffet that caters to your desires, you can check out our list of our five favorites. They are all great ways for those who take casino bus trips to Atlantic City to get the fuel they need to
Borgata Casino Buffet Atlantic City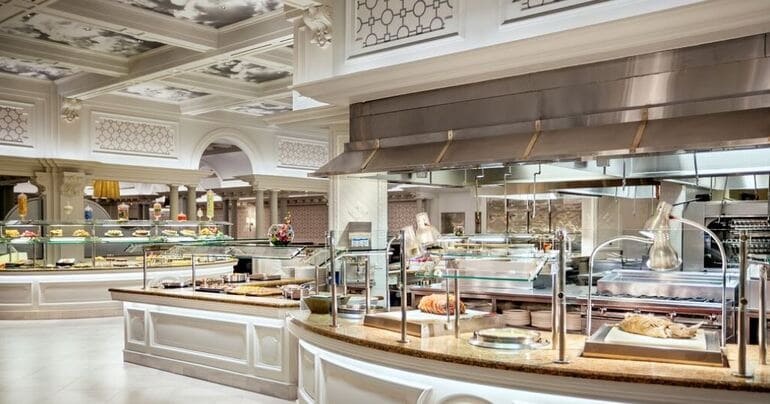 The buffet at Borgata Atlantic City offers decadent options to satisfy any appetite. It features a tasty assortment of pasta, comfort foods, seafood, tender meat, and more. You can even enjoy Asian cuisine along with mouthwatering desserts and other tasty treats.
Between Thursday and Monday, the Borgata breakfast buffet operates between 8 AM and 11:15 AM. The price of admission is a reasonable $21.99. The lunch buffet, which starts at noon and goes until two, costs $25.99 while the dinner buffet runs from 4 PM until 9 PM and costs $39.99.
The Borgata Buffet offers brunch and dinner on Saturdays and Sundays. Brunch is available from 8 AM until 3 PM and costs $30.99 while dinner is served from 4 PM until 9 PM and costs $39.99. Make sure to circle this destination on your Atlantic City casino map.
| | |
| --- | --- |
| Trip Advisor Rating | 4/5 |
| Yelp Rating | 3.5/5 |
| Price Range | $21.99 to $39.99 |
| Web Address | https://borgata.mgmresorts.com/en/restaurants/borgata-buffet.html |
| Location | Borgata Hotel Casino & Spa, 1 Borgata Way |
Hard Rock Casino Buffet Atlantic City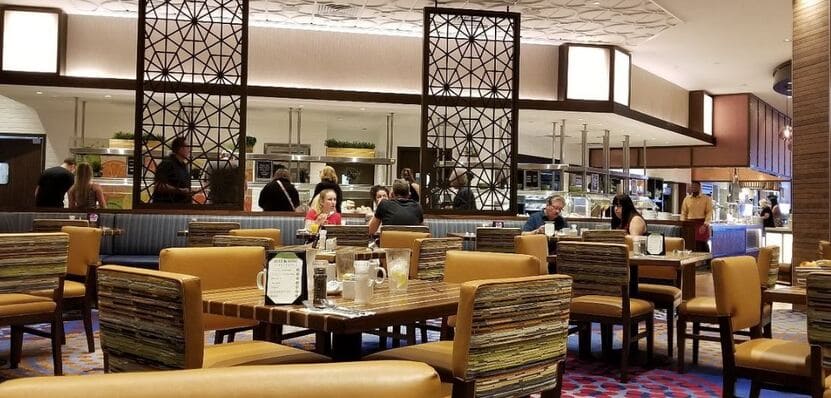 The Fresh Harvest Buffet at Hard Rock Casino Atlantic City serves up a full range of American dishes along with all of your international favorites like brick oven pizza, dim sum, and more. Not only is the food delicious, but the chefs put on quite an entertaining spectacle as they prepare it.
One of the most popular feast at the Hard rock Casino Atlantic City buffet is the Fresh Harvest Seafood Buffet which is offered every Thursday between 2 PM and 9 PM. Although it costs $55.99, diners can enjoy all sorts of fresh seafood including crab, oysters, clams, scallops, and a variety of fish. Lobster is also available for an additional $30.
If you aren't into seafood, then you can also choose from a variety of other options such as roasted chicken, prime rib, pizza, and a full complement of veggies, soups, and salads. Why not try your luck at one of your favorite Atlantic City online casinos while you're at it?
| | |
| --- | --- |
| Trip Advisor Rating | 3.5/5 |
| Yelp Rating | 3/5 |
| Price Range | $19.99 to $55.99 |
| Web Address | https://www.hardrockhotelatlanticcity.com/restaurants/casual-dining/fresh-harvest-buffet |
| Location | Hard Rock Hotel & Casino, 1000 Boardwalk |
Tropicana Casino Buffet Atlantic City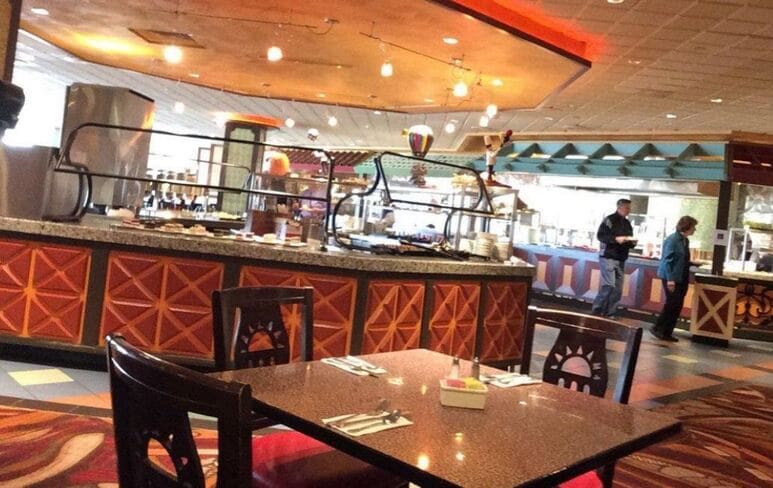 The Tropicana Casino Atlantic City buffet offers everything from Italian and Asian cuisine to surf & turf and mouthwatering roast beef. However, one of the most popular events at Fiesta Buffet has to be the breakfast buffet which is available daily from 8 AM until 1:30.
For just $18.95, hungry guest can start their day with all of their favorite breakfast items including pancakes, waffles, pastries, ham, and crispy bacon. Do you feel like having eggs? Well, Fiesta Buffet serves them any way you want. Sunny and runny, over easy, scrambled, and eggs benedict are all there for you along with an assortment of fresh fruit, juices, and coffee.
Of course, Fiesta Buffet also offers an extensive dinner menu. Fill up on crab legs, shrimp, clams, and slow-roasted, hand-carved prime rib for $28.95. Not only is this buffet reasonably priced, but Tropicana is one of the cheapest Atlantic City casino hotels on the Boardwalk.
| | |
| --- | --- |
| Trip Advisor Rating | 3.5/5 |
| Yelp Rating | 2.5/5 |
| Price Range | $18.95 to $28.95 |
| Web Address | https://www.tropicana.net/fiesta-buffet |
| Location | Tropicana Casino, 2831 Boardwalk |
Harrah's Casino Buffet Atlantic City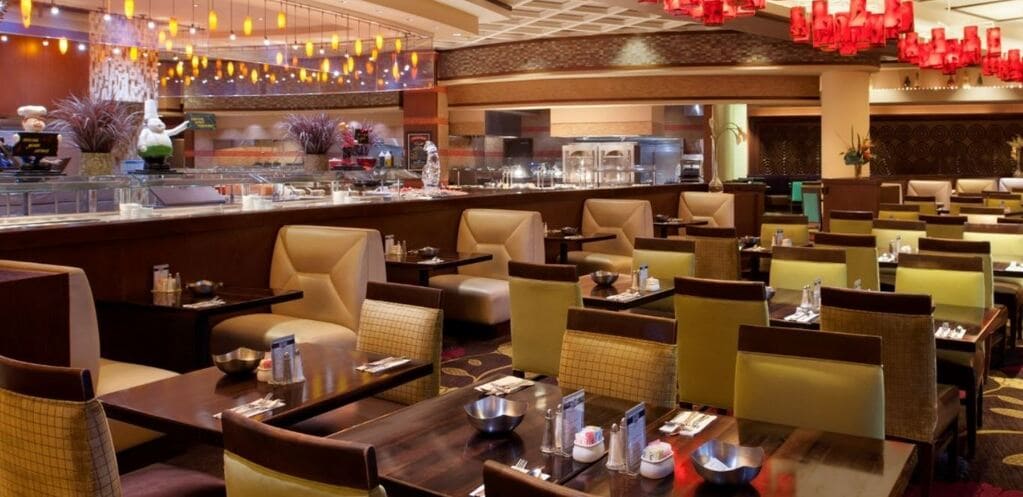 Harrah's Casino Atlantic City buffet, known as the Waterfront Buffet, offers an incredible assortment of American and international dining options. You'll find the most popular Italian dishes including various pasta and piping hot pizza as well as Asian favorites like sushi and dim sum. Judging by various platforms like Yelp and Trip Advisor, people can't enough of the tacos.
Perhaps the most tantalizing section is the BBQ Pit where you can load up on barbequed beef, pork, and chicken. The Waterfront also has one of the most expansive salad bars and a dessert station featuring a rich range of cakes, pastries, and other treats. The dinner buffet is open daily and the prices vary between $36.99 and $42.99. Children get in for just $14.99.
| | |
| --- | --- |
| Trip Advisor Rating | 4/5 |
| Yelp Rating | 3/5 |
| Price Range | $21.99 to $42.99 |
| Web Address | N/A |
| Location | Harrah's Atlantic City, 777 Harrah's Blvd |
Bally's Casino Buffet Atlantic City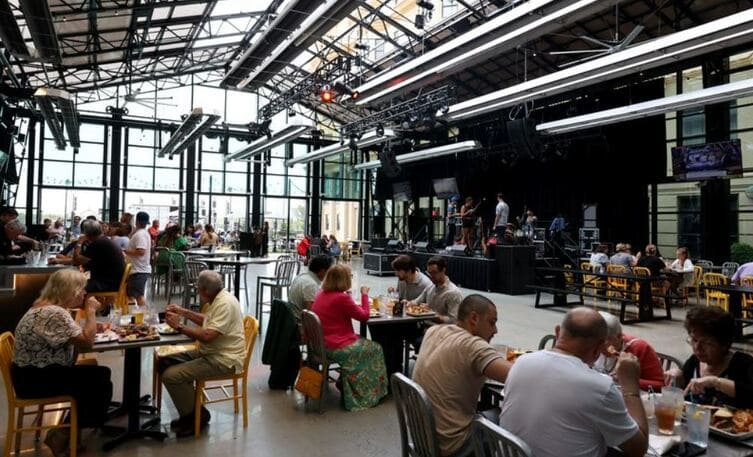 The Yard at Bally's Casino is well-known for its hot nightlife and live entertainment. However, it also happens to have one of the best brunch buffets in the city. The thing is, it only happens on Sundays. Starting at $34.39 per person, The Yard's Boozy Brunch Buffet brings you all of your favorite brunch items including waffles, sandwich meats, French toast, and pastries.
For an extra ten bucks, you can kick back and sip on a variety of bottomless beverages including mimosas, bloody Marys, and tequila sunrises. You can also try a variety of craft beers starting at $5. Bally's Casino Atlantic City buffet starts at 10 AM and runs until 1:30 PM.
| | |
| --- | --- |
| Trip Advisor Rating | 1/5 |
| Yelp Rating | 2.5/5 |
| Price Range | $34.99 |
| Web Address | https://casinos.ballys.com/atlantic-city/the-yard.htm |
| Location | Bally's Atlantic City, 1900 Pacific Ave. |
FAQ about Atlantic City Casino Buffet
✔️ Can I enjoy the buffets at Atlantic City?

Yes, although operating hours vary, most buffets in Atlantic City casinos offer breakfast, lunch, and dinner. Check the buffet's website for more information. You might even score Atlantic City casino buffet coupons for a discount while you're at it.
✔️ Are the buffets available at any of the Atlantic City casinos?

In addition to other dine-in and take-out options, almost all Atlantic City casinos have at least one buffet. Some even have two.
✔️ Which Atlantic City casino stands out for its exceptional buffet offerings?

It depends on what you want. If you are thinking in terms of budget, then Tropicana's buffet might be a good place to start. If you are into more decadent dining, then you'll love the Thursday seafood buffet at Hard Rock. All of the buffets mentioned above serve delicious food.
✔️ What is the pricing for the buffet at Borgata?

The Borgata buffet breakfast is $21.99 and the lunch buffet is $25.99. The dinner buffet is $39.99 while brunches on Saturday and Sunday are $30.99. Prices can be even cheaper if you have a Borgata Atlantic City casino buffet coupon.