Transform your life with NJ Jackpots
New Jersey is known to many for its fun and thrilling life. This small state in the USA is also known to bring luck to many through its NJ jackpots. Jackpots are the biggest prices offered to the players on certain games in NJ casinos online or offline. These jackpots can be life-changing, as it deals with real money, and if you get lucky enough to win one, you may be rewarded with financial freedom and security.
With online gambling NJ gaining popularity, you don't have to come down to New Jersey to try your luck, you can start winning right from your home. This is more beneficial if you are living outside of the USA.
Top 1


888 Casino NJ
Bonus
$20 No Deposit Bonus
Top 2

Stake.US
Bonus
250m GC + Free 25k SC Every Week
Top 3


Caesars Casino MI
Bonus
100% Match up to $2,000

Bonus
100% Up To $1,000 + $25 Token

Bonus

Bonus
$300 CPA on Min Deposit of $50

Bonus
$200 Free Play with First $50 deposit

Bonus

Bonus
Get up to $1000 back plus $100 Casino Bonus

Bonus
First Bet bonus up to $500
Biggest hits by NJ casino jackpots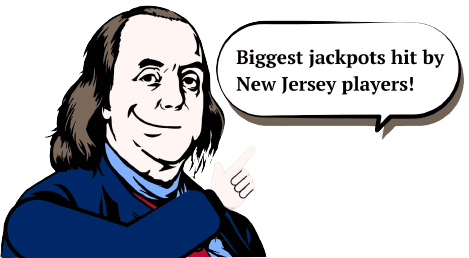 This garden state is known to provide big opportunities to its players through poker, slots, sports betting New Jersey, roulette, and most impressive of them all NJ lottery jackpots.
Below are the 3 biggest jackpots hit by NJ players.
2.8 million dollar jackpot hit at the Golden Nuggets hotel and casino on the monopoly money-grab slot machine This jackpot hit is believed to be the biggest Atlantic City casino jackpot win of 2022.
$1.6 Million win at the Harrah's Resort & Casino Atlantic City on the progressive poker table. The amount won was the biggest the Caesars Entertainment has ever given out, making it the largest NJ casino jackpots.
2.1 million won at the BetMGM Casino NJ. This doesn't come as a surprise as BetMGM Casino is said to offer the largest progressive jackpots within the US after hitting a colossal jackpot from the Bison Fury, an exclusive BetMGM game, making it one of the best online casino games to win jackpots in NJ.
The biggest NJ lottery jackpots ever won
Lottery NJ jackpots are a surefire way to riches. All it takes is a lucky number TO win a staggering amount in a short time. Below we have listed some of the biggest winners of the jackpots for NJ lttery.

$258 million Mega Millions jackpot, 2005: Won by the Rutherford couple, who chose the cash option of $117,075,000.
$273 million Mega Millions jackpot, 2019: won by the resident from Alpha, who chose the cash option of $162.5 million.
$315 million Powerball jackpot, 2018: won by an accountant from Little Ferry, who made a lump sum of $183.2 million.
$330 million Mega Millions jackpot, 2007: won by a retired couple of Villas, who opted for a cash payout of $48.6 million.
$331 million The Big Game jackpot, 2002: won by Manalapan residents NJ cahses in on casino jackpots and walked away with $58 million.
338.3 million Powerball jackpot, 2013:recorded as the 4 th biggest Powerball win by a single winner. The resident of Passaic opted for a cash payout and made $221 million.
$390 million Mega Millions jackpot, 2007: won by the Cape May County couple, and was the biggest lottery NJ jackpots in the USA history. The couple walked home with $87.4 million in cash.
$429.6 million Powerball jackpot, 2016: the 6th largest Powerball jackpot in NJ that made the winners a staggering $284.1 million.
$448.4 million Powerball jackpot, 2013: 2 of the winning tickets were sold in NJ and the win brought about a sigh of relief for the ocean county winners who were suffering due to the hurricane.
$533 million Mega Millions jackpot, 2018: won by the Vernon resident, who chose the cash payout of $324 million. This is one of the biggest current NJ lottery jackpots.
The biggest NJ slot jackpots ever won

Slot machines have always been the favorite for most gamblers, who can try their luck after reaching the NJ legal gambling age of 21. This popularity has pretty much to do with the ease of use as well as the prize money.
Below we have listed some of the biggest NJ slot jackpots wins of all time.
$10.01 million: on nickel slot at Harrah's casino, 2006: Considered as one of the first big payout made by the slot machine.
$8.55 million: This is the second biggest win on the progressive slots.
$3.84 million: on Wheel of Fortune at Borgata Hotel Casino, 2012.
$3.08 million: on Wheel of Fortune at Taj Mahal, 2016.
$2.84 million: on Monopoly Money Grab at Golden Nugget Hotel, 2022.
$2.65 million: on Wizard of Oz – Emerald City at Borgata Hotel, 2013.
$2.65 million: on Pink Diamond at Harrah's Casino, 2017.
Try your luck with the everyday NJ casino jackpots
There can never be a dull day with Atlantic City casino, which brings you a chance to hit the jackpot.
Lottery jackpots in NJ
Below are some of the current lottery jackpots NJ, you can try your luck in.

Pick- 3: drawing twice a day, meaning you get a chance at winning a second time in the day.
Pick-4: Drawing twice a day, thereby allowing you to win every day.
Pick-6:  NJ pick 6 largest jackpots in history has been $48.9 million by a couple in union county in 2001. You can easily find the list of pick 6 NJ jackpots win on the official NJ website.
Jersey Cash 5: This NJ Lottery provides "Quick Pick with XTRA" which increases the non-jackpot prices by 5 times, giving you a chance at winning a big amount.
Power Ball: A jackpot so big that it has made quite a few people millionaires throughout the USA. Unclaimed NJ lottery jackpots are rolled over, until a winning combination is shown, thereby increasing the prize money.
Mega Millions: these jackpots left NJ players in shock, as the highest payout ever made through mega millions was $533 million
Cash 4 Life: A unique NJ lottery jackpot, where the winner receives $1000 every day for their life.
Fast Play: This lottery has a predetermined winning combination, which the players need to guess to win.
Casinos offering NJ slot jackpots.
Every casino has a different slot game and prize. While there is no way to know when the slot will hit the jackpot, so casinos keep making profits. There have been instances where NJ slot jackpots closed casinos leading to disputes as the winners were not able to claim the prize money. Some of the casinos that offer slot games
Bally Casino: Wheel of Fortune, Triple Extreme Spin, Secrets of the Phoenix, Tiki Island, Cleopatra, and 88 Fortunes.
Virgin Casino: Tiki Totems, Million Dollar Money Drop, Triple Red Hot 7s Free Games, Wheel of Fortune Triple, and Extreme Spin
BetMGM Casino: Bison Fury, MGM Grand Millions, Oracle of the Dead
Hard Rock Casino Atlantic City NJ jackpots include slot games like Guns N' Roses, Jimi Hendrix, Blood Suckers, and $100,000 Pyramid.
Caesars Casino: Cleopatra Gold, Jinse Dao Dragon, 88 Fortunes, Crazy Money Deluxe, Divine Fortune,
Unibet Casino: Endless Treasure, Apollo Stacks, Diamond Hearts, Butterfly Staxx
NJ progressive jackpots online and offline
Progressive slots are the ones that keep growing until someone wins. Many Atlantic City Casino offer progressive slots to their players with any NJ scratch off jackpots remaining can still be won in the next turn.
Some of the popular progressive slots in NJ are:

Divine Fortune has paid out $3 million in jackpots to NJ players
MegaJackpots Siberian Storm: you can easily make over $500,000 in progressive slots.
Wonderland: you can easily make a jackpot here simply by turning over a Joker card.
The mercy of the Gods: progressive slots that can help you make minor, major, or mega jackpots.
The Big One progressive slot, a joint venture by Borgata Casino and Bet MGM Casino, can help you win millions.
Odds of winning NJ casino jackpots

When it comes to hitting a jackpot, it's almost necessary to have an idea of how the games work so your chances of winning are high. Below are the 2 ways you can increase your chances of winning the jackpot.
Lottery jackpot: The odds depend upon the combinations available and the game type. The odds of hitting a Mega Millions jackpot are 1 in 302,575,350, and for pick 6 are 1 in 13,983,816, as and how the combination increases, the odds decrease.
Slots jackpot: hitting a slots jackpot can vary depending on the machine, game, and RTP making it a little difficult to calculate the odds.