Michigan Horse Racing Betting
Michigan has always been a friendly location to place bets for decades. The betting industry, although limited, has always provided wagering options for sports enthusiasts at its early stages. That said, in-person betting has always been welcome by the Wolverine State. Mi horse racing betting was legalised in 1933 and regulated by the horse racing law of 1995. The act governs the pari-mutual wagering style on the live results and simulcasts races.
Michigan Gaming Control Board regulates and licences the operations of horse race meetings in the Wolverine State. Together with the law, a couple of rules help put into perspective the various activities that happen within the industry. These rules also evolve, which helps keep the state in competition among the best places to play horse races bets.
Today, residents in Michigan can place bets via horse race betting sites and mobile apps. This became a reality when House Bill 4310 was passed and became effective in 2020. This review will provide a comprehensive view of horse racing in Michigan, how to place bets, where you can place bets and many more aspects. Let's dive in!
Wagering on Horse Racing in Michigan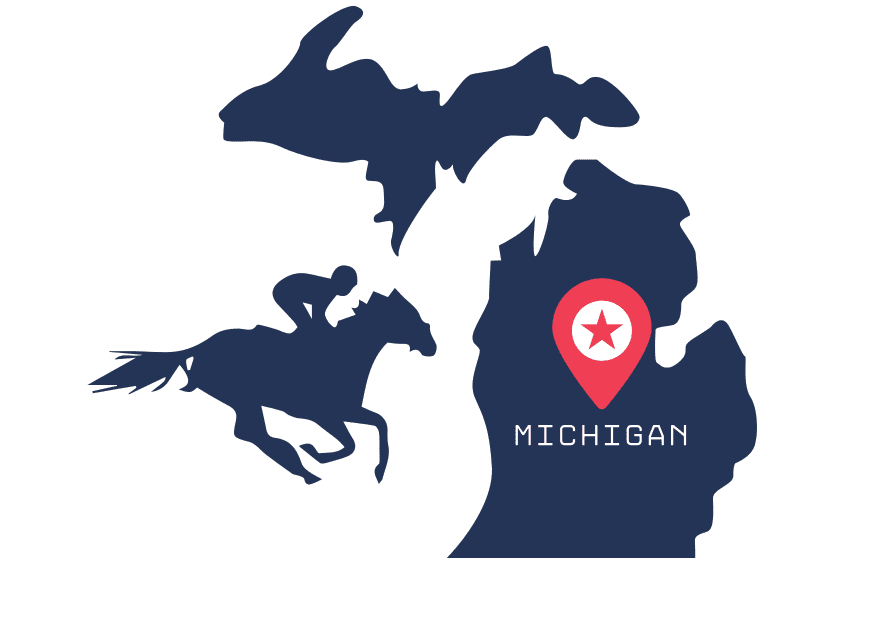 Horse racing sports betting Michigan is a 90-year-old tradition in Michigan. Players can bet via pari-mutuel wagering and Northville Downs. In addition, horse race enthusiasts can also bet on significant events like Preakness and Kentucky Derby in the USA from the comfort of their homes via online horse race betting. These betting options allow punters to enjoy and explore their favourite horse racing betting Michigan action on the racetrack.
Michigan horse racing betting is straightforward. Online operators provide a variety of bet types which are generally grouped into two. Here are the necessary bet types that you should know about:
Straight Bets
To place a bet, you have to pick a horse that would win, place or show. Here is what we mean:
Win – The player places a bet on a horse to win. The bet loses if the preferred horse fails to win the race.
Place – Bets place on a horse to finish either the first or second place
Show – A player bets on a horse to complete the race in the first, second, or third position
Exotic Bets
In addition to straight bets, you can also go further to learn these advanced betting types.
Exacta – This is similar to the place bet but quite different. The player bets on two horses to complete the race in first and second position, and in that order. This bet can also be boxed to mitigate losses.
Quinella – The player bets on two horses to complete the race in first and second position. They can finish in any order.
Trifecta – Here, the player bets on three horses to complete the race in first, second, and third positions. The horses must finish in the same order as it was selected to guarantee a win.
Superfecta – The punter bets on four horses to complete the race in first, second, third, and fourth position. The horses must finish in the same order.
Where can you bet on horse racing in Michigan?

The state of Michigan approved pari-mutuel wagering on horse races in 1933. Since then, Michigan racetracks have hosted simulcast racing under North America's Horse Racing Law of 1995. The 1995 law was later amended to allow horse racing betting sites Michigan in 2019. This amendment means that horse race experts can wager on horse racing from across the country and live racing in Michigan. They can also bet on legal horse betting operators which they have to sign up with.
Live Horse Racing in Michigan Racetracks
For over 100 years of horse racing history in Michigan, we have experienced over eight racetracks. The Wolverine state was home to lots of live horse racing tracks in Michigan. Despite this number, as of today, only one among the horse racing venues in Michigan still offering live standardbred racing, pari-mutuel wagering, simulcast standardbred, and thoroughbred racing on all the action. The decline is attributed to a lack of revenue to keep them running and a 2004 measure that demanded that gambling ventures be legalized by voting.
Northville Downs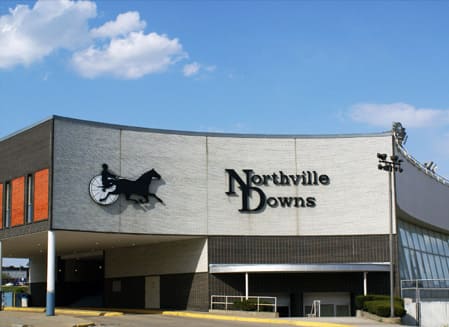 Northville Downs functions as the only horse racing track in Michigan. Every year, the establishment hosts two live harness racing events. One runs from March through June, while the second from October through December. The events usually kick off at 7.30 PM on weekends – Friday and Saturday. Horse race lovers can place bet at this venue. Simulcast wagering is also allowed.
In 2020, MGCB approved a partnership between Northville Downs and TVG. This permitted mobile horse racing betting. A similar partnership was also established with Chruchhill Downs Inc.
List of other Racetracks in Michigan
Northville Downs is not the only horse racing tracks in Michigan. We have a couple more racetracks. Note that these racetracks are closed at the moment and some would no longer host horse race events. However, the question of if any horse racing in Michigan takes place has the answer yes. Here is a list of these racetracks establishments.
Sports Creek Raceway
Hazel Park Raceway
Mount Pleasant Meadows
Online Gambling Sites
It is required that horse racing betting casinos in Detroit, Michigan get their license from MGCB. The legal minimum gambling age is set at 18 years. There are a few operators and apps where you can place a bet.
Twinspires
DRF Bets
NYRA Bets
TVG
Xpressbet
Twinspires and DRF Bets are sites that allow punters place bets. FanDuel and DraftKings are Michigan DFS top sites in the state and also top favorite for most residents to win big. For quick and easy navigation, you can access horse races via mobile apps like TVG, Xpressbet, FanDuel and NYRA Bets.
Top Betting Strategy on Michigan Horse Racing Betting USA

To get a better outcome on your wager on legal online gambling sites in Michigan, developing a strategy that works is necessary. Strategy is an essential factor every punter should consider. It separates the rookie/amatuer from the professional. Here are great strategies to give you a profitable outcome.
The Dutch Betting Strategy
Dutch betting entails betting on more than one possible outcome. It is a strategy also common in Mi sports betting like football. The aim is to profit from one of the various possible options you place a wager on. It is beneficial if you have a clue on the best wager to place.
The 80/20 System
This is a strategy designed to mitigate losses. The bettor places 20% of his bet on the preferred horse to win the race and 80% on that horse to finish second or third. Most times, a horse starts well but ends the final furlong slowing down and losing time. This bets helps the punters take some profit despite the his pick not finishing first.
Place Laying System
This is a great strategy for placing thoroughbreds to lose. If this strategy is used correctly, the bettor goes home with a huge win. The player lays two horses having low odds in the same race. The race should have 5 – 7 contenders. The profit comes when one or both horses don't end the race in first or second place.
Yankee Strategy
Yankee is an old strategy that has been around for a long time. Four horses are chosen for the various races. Two must win or get a place in the race.
Exacta Strategy
The exacta strategy is common among horse racing enthusiasts—the bettor bets on two horses to finish the race in first and second position. To win the standard exacta bet, the horse must complete the race how you choose them.
Tips for Beginner Horse Racing Betting Michigan
Horse racing is quite different from dog racing. So, while you research and bet on the horse, you must remember that a jockey drives the horse. Here are simple tips to help you place a good bet as a newbie.
Do research on the horse's history
Find out if the jockey has a good history. Have they recorded winnings recently? Etc.
Tracks are not created equally. Contestants perform differently on each track. Varying surfaces include turf, dirt, and synthetic. Your bet should be influenced by these factors.
Find out the owner of the horse. Success is known to be associated with proven owners.
Understand the various types of bets
Use a good bankroll management
FAQ
✅ Is there horse racing in Michigan?

Yes, there is horse racing in Michigan and it is legal. Horse racing fans also place bets on their favourite horse to win real money.
✅ How can I place a bet on horse racing in Michigan?

Bets can be placed on the racetracks (pari-mutuel wagering) or via online betting sites. There are also mobile apps that can be used to place wagers on the go.
✅ Is online horse racing betting legal in MI?

Absolutely, online horse racing betting is legal in Michigan. Players can place and win huge prizes on their favourite horses.
✅ Who regulates horse racing in Michigan?

Horse racing in Michigan is regulated and licensed by the MGCB.
✅ What is the minimum age for betting on Horse racing in Michigan?

The state of Michigan has a minimum age to wage on horse racing set at 18 years. Horse race enthusiasts can place a bet if they are 18 or more.
✅ What length is the racetrack at Northville Downs?

The racetrack is half a mile with a 440-foot stretch and a passing lane.